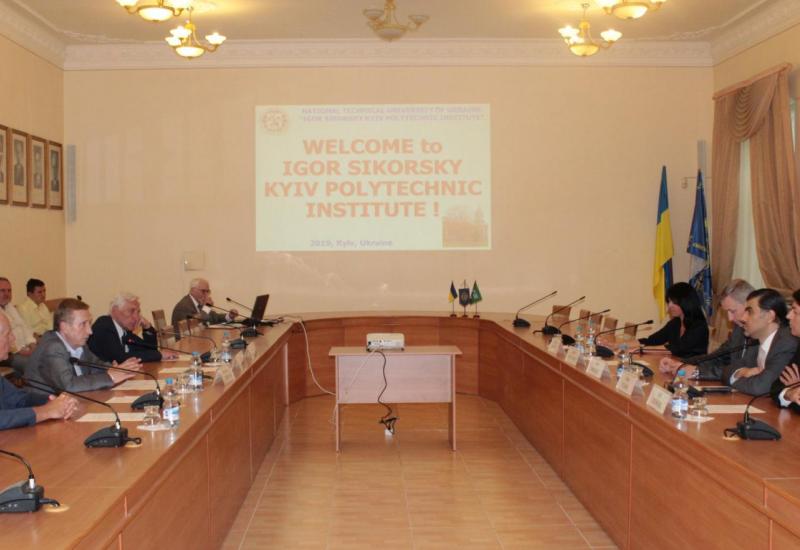 On 22nd May the delegation from "GD Middle East" company (Kingdom of Saudi Arabia) has visited Igor Sikorsky Kyiv Polytechnic Institute.
In the delegation were such people as the main manager from the "GDC Middle East" company development of business Chris Parsons, the manager of the development of product Rabia Tulba, the manager of the development of business Akif Tsetintas. They were accompanied by the director of "Progresstech Ukraine" A.Fialkov and adviser of Group of companies «PROGRESSTECHGROUP» H.Brovko.
Guests examine monuments of prominent scientists and engineers that studied and worked in the Igor Sikorsky Kyiv Polytechnic Institute, and the display of the State polytechnic museum and its department of aviation and cosmonautics named after Igor Sikorsky. During this excursion the chancellor of the Igor Sikorsky Kyiv Polytechnic Institute M.Zghurovskyi told about university`s history and its prominent graduates.
Questions were under consideration after first representatives acquaintance of «GDC Middle East» and university. In conversation the pro-rector of international connections member of NAS of Ukraine S.Sydorenko, the deputy of leader of Department of international cooperation Y.Polishchuk were taking participation.
M. Zghurovskyi and S.Sydoenko told to quests about scientific activity of Kyiv polytechnicians, especially about preparation of future specialists of aviation industry in two general educational centers of "Igor Sikorsky Kyiv Polytechnic Institute – Boeing – Progresstech Ukraine", opened on the base of MMI. In addition, representatives of company saw a video presentation about university`s innovative activity. So the participants exchanged their opinion about future collaboration, first of all about organizing the preparation for specialists in aircraft building. One of the way of such type of preparation can be their studies in the program like "Boeing" or "Progresstech". Therefore the participants of meeting agreed that in the near time the representatives of "GDC Middle East" will send suggestions about the possible forms of collaboration.
Reference. The company "GDC Middle East" was founded by the Saudi fund of public investments with the aim of assistance and knowledge, and also for providing a stable improvement of aerospace and defensive industries of Kingdom of Saudi Arabia. There are three main directions in company`s activity: aerospace engineering (engineering decisions for service airplanes and aviation industry), the center of aerospace integration (development and introductions of decisions, that support the complete life circle of airplane), testing and estimation (support and accompaniment of clients through testing of technique on accordance with international standards).