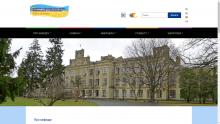 Department of Ukrainian Language, Literature and Culture was founded 5 October 1989 to provide in-depth study of the Ukrainian language students and university staff. It was the first chair of Ukrainian studies in technical universities of Ukraine. In 1995 the Department became the part of created in university Faculty of Linguistics.
Since 1989, the Department provides teaching students of the university full-time and distance the following learning subjects: the Ukrainian language, Ukrainian language of professional orientation, business Ukrainian language, Ukrainian language for beginners, the Ukrainian language for teachers, modern Ukrainian language, history of Ukrainian culture, Ukrainian and foreign culture, foreign culture, Ukrainian and foreign culture of the twentieth century., Cultural Studies, linguistics of the nation, introduction to linguistics, general linguistics, the introduction of Ukrainian history, Ukrainian modern literature, basic editing, culture judicial speech.
The main directions of the department are:
highly qualified teaching students of all faculties of the University of the Ukrainian language in professional direction for a better mastery of Ukrainian scientific and technical terminology;
introducing students to the history of Ukrainian culture in the context of European and world cultural space, which promotes the formation of the student's  own position, understanding of professional development and integration of cultural activities in their own modern environment in Ukraine and worldwide;
developing training programs and teaching materials;
providing guidance to students, teachers and university staff, to foreign nationals in learning and improvement of the state language.
Faculty and staff of the Department provides teaching of the discipline:
Ukrainian language for professional direction - all faculties Igor Sikorsky Kyiv Polytechnic Institute;
History of Ukrainian culture – FL, ZF, IASA, FAKS, FPM, FEA;
Basic Editing translation - FL;
Introduction to Linguistics - FL;
General Linguistics - FL;
Modern Ukrainian language - FL;
Ukrainian language - FL.