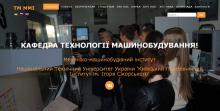 As the student of Department of Manufacturing Engineering You can get the degree of:
- Bachelor of Science in Mechanical Engineering (4 years). Graduates can choose to continue of studying or to get job as junior engineering staff.
- Master of Science in Manufacturing Engineering (2 years). Graduates can choose to become postgraduate student or to get job as production engineer, college teacher, laboratory assistent, project leader etс.
Europian standards diplomas of the Igor Sikorsky Kyiv Polytechnic Institute are the best mechanical engineering certificates of degree in Ukraine and are well known all around the world.
To get best-quality "on the cutting edge" knowledges at department of manufacturing engineering we ensure to You all needed conditions:
The highly qualified faculty, includes 4 professors with Doctor of Sciense degree and 15 associated professors and senior lecturers with Candidate of Science (Phd) degree.
The lecture rooms equiped with multimedia, computer classrooms, laboratories equiped with modern appliances.
Educational training center "Igor Sikorsky Kyiv Polytechnic Institute - HAAS" where students can get additional knowledges, skills and abilities in programming of modern CNC machines made by world-known HAAS company.