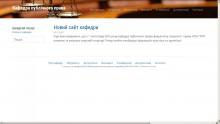 Department of Public Law was established in 1996 at the Faculty of Law.
Head of the Department of Public Law, Candidate of Law, Associate Professor Tatyana Chepulchenko.
The teaching staff consists of 14 professionals, of which 1 doctor of law, PhD 8 (6 PhD, 1 candidate of historical sciences, 1 PhD), 3 senior teachers and 2 teachers without a degree.
Department of Public Law trains specialists:
Bachelor's degree 081 Law.
Master degree 081 Law.
Forms of education in each specialty: full-time, part-time, the second highest on the basis of higher education..
Terms of training:
Day – Bachelor (b) – 4 years; Master (m) – 1,5 years.
Correspondence – bachelor (b) – 4.5 years.
Speciality "Law" provides a detailed study of the theory of law, history of law, criminal law theory skills crime, criminology, advocacy, international law, constitutional law, case management and other disciplines of humanitarian, social, economic, professional and practical training.
Graduates may work in law enforcement and customs agencies, courts, tax administration, local government and executive authorities, institutions of justice, the legal service of the company.
In order to prepare of the teaching staff at the department operates postgraduate full-time and part-time teaching in the field: 12.00.01 – "Theory and history of state and law; history of political and legal doctrines, "12.00.08 -" Criminal Law and Criminology; penal law ".