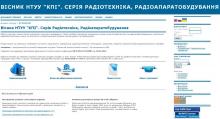 Scientific labours issue "Bulletin of National Technical University of Ukraine. Series Radiotechnique. Radioapparatus Building" contains researches results in industrial problems connecting with theoretical principles creation of modern radio engineering and apparatus radiobuilding; science and technology achievements practical realization; intellectualization of planning processes and production.
It is offered to research workers, engineers, businessmen of radioindustry, professors, graduate students, students of radioelectronic specialities.
Founder: National Technical University of Ukraine "Kyiv Polytechnic Institute"
Registration Certificate of communication printing medium KB №19314-9114ПР of 24.04.2012.
The issue is included in the scientific professional editions list of Ukraine, in which the results of dissertation works can be published on the receipt of scientific degrees of doctor and candidate of sciences (engineering science). Decision of Goverment Attestation Commission of Ukraine of 10.03.2010 № 1-05/2. (Bulletin VAK of Ukraine №4, 2010)