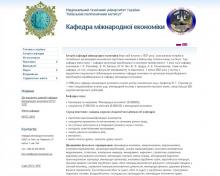 History of International Economy Department dates back to 1937, when the necessity of more profound preparation of engineers emerged in Kyiv Polytechnic Institute. The department was named as "Industrial engineering and economics". In different times the department was headed by: Rozenberg I.E., Balakin E.M., Lych M.M., Shudra V.F., Rozenplenter A.E. The faculty of management and marketing was created exactly on the base of this department. In 2002, 1 July, when the new major "International Economics" appeared, the department was given a new name "International Economics Department".
Since 1998 International Economics Department has been headed by V.H. Gerasymchuk, doctor of economic sciences, professor, the member of academic council, international expert in appropriation of scientific ranks, the author of more than 300 scientific publications.
Department provides:
Bachelor's degree in International Economics (6.030503);
Master's degree in International Economics (8.03050301).
The key task of scientific and educational work of department is training of highly skilled economists, who are:
competitive on the domestic and international labor-market,
knowledgeable about scientific and technical development trends,
mastered in computer programs,
speaking foreign languages,
well-mannered;
having own opinion and respect to others.
Disciplines of professional direction: international economics, macroeconomics, microeconomics, economy of enterprise, industrial engineering, basis of enterprise, economic modelling, statistics, electronic commerce, management, marketing, strategic management, government economic control, international trade, customs business, international marketing, multinational corporations, international organizations, economics of foreign countries, European integration, money-and-credit systems of foreign countries, account of foreign economic activity, integration processes in the world economy, international finances administration, government finances, finances of enterprises, business accounting and audit, business accounting and audit in foreign countries, insurance, tax system, stock market, economic legislation, international economic law, international innovation activity, intellectual property, competitiveness of enterprise, international investment activity, currency operations.
3 foreign languages are taught (English, German, French or Spanish).
Students studying at "International Economics" are able to:
analyze factors of external and internal environment;
perfom market researches;
design business and governmental economic strategies;
make economic assessments and economic background of innovations and investment projects;
design mechanisms and estimate the effeciency of international cooperation;
solve accounting and analytical tasks on international commercial transactions;
organize and control the execution of international agreements.
Economic disciplines with appropriate methodological support carried out highly qualified professors, including 6 doctors and 14 PhDs. IT in preparing and conducting lectures, practical seminars (electronic manuals, automated training systems, distance learning, e-mail, Internet pages professors) are actively used.
The department organizes scientific conferences on international scientific and technical cooperation and operation of business. Research works on the relevant economic issues with engagement of graduate students, professors and current students are executed. An annual competition on the subject of international economics is conducted.
International economics department supports creative relations with the economic faculties of leading technical universities of Ukraine (Lviv, Kharkiv, Donetsk, Sevastopol, Dnipropetrovsk), Russia, Belorussia, Latvia, Bulgaria, Germany, Lithuania, Macedonia, Estonia, Poland, France, Finland, Hungary, Czech Republic, Romania, Iran, Kazakhstan, Slovakia Republic.
Specialist in international economics can work as head of economic departments of different legal forms of businesses, as expert and consultant on foreign trade, adviser and representative in international organizations, commercial and industrial chambers, subsidiaries of foreign companies, joint ventures, embassies, governmental offices.