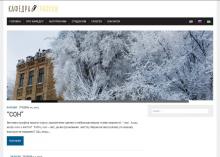 Address: BUILDING 25 Volodymyrska str. 7 01025 Kyiv, Ukraine. tel. 279-04-83.
BUILDING 8 Yangelia str. 1/37 03056 Kyiv, Ukraine tel. 204-97-69.
It was headed by prof. Boris Valuenko (1990-2003); Honored artist of Ukraine, prof. Vasiliy Perevalskiy (2003-2004); associate professor Miroslava Pshenichnaya. Today the head of chair is Tatiana Osipova, associate professor, PhD in technical sciences.
In 1989 the institution was included to the National Technical University of Ukraine "Kiev Polytechnic Institute". Finally, 6 September 2004 by the NTUU "KPI" council The Institute for Publishing and Printing was established.
At the department students get thorough knowledges in subjects such as composition, book design, drawing, painting, fonts and ornaments design, print technique, surface anatomy, photography, history of arts, colour in prints etc.