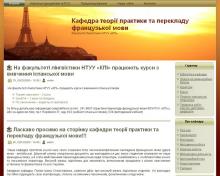 The Sub Department trains highly experienced translators and interpeters knowing French language (the second language is English). A wide range of special subjects taught in our Sub Department allows students to learn not only French, but also become skilled translators of different types of literature, acquainted with the peculiarities of interpretation and translation. A high level of training enables our graduates to work in various prestigious institutions and companies in Kyiv, throughout Ukraine and abroad.
The Head of the Sub Department, Irina Stanislavivna Polyuk honestly concerned about the high level of students. All teachers are constantly improving their skills, monitor changes in lexical, phonetic structure of speech.
The students of the Sub Department of Theory, Practice and Translation of the French Language have a unique opportunity to work with original books received by the University on the program. The Sub Department created the library and mediatheque, completed with the necessary academic and fiction litterature, video and audio materials.
Also the Spanish language is taught at our Sub Department for the students of technical departments.