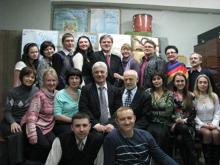 "ETA" Amateur Variety Theater was created by Vitaliy Ivashchenko, then a fourth-year student of the Faculty of Mechanics, on April 1, 1959.
Why such a name? Variety (Ukr. – E s t r a d n y) - democratic, understandable at all times and in all places, relevant, mobile, interesting and fun.
T h e a t e r is a super-objective - the study of the life of the human spirit in the form of interesting drama and artistic images.
A m a t e u r s are those who are skillfully and lovingly engaged in a business that is not their profession. These are people following their vocation.
30 comedy performances have been written and staged for over 60 years.
The theater was highly evaluated by professional juries of various festivals and contests. ETA is a laureate of all four all-union festivals of folk art, Prize Laureate of Kyiv Komsomol named after Oleksandr Boychenko, laureate of many Ukrainian theater art festivals.
In 1987, our theater, the first and only student theater in Ukraine, was granted the status of a State Studio Theater by the decision of the Ministry of Culture of Ukraine. And a little later, the title People's was assigned.
ETA successfully toured in dozens of cities of the Soviet Union, and performed abroad - in Poland and Bulgaria.
The Greek letter "eta" denotes the efficiency factor in technology - a symbol and stimulus. This symbol is the goal and dream of the theater: to help people and society increase their efficiency, so that everyone lives more interestingly and happily.