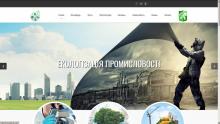 Department of Ecology and technology Of Plant Polymers Igor Sikorsky Kyiv Polytechnic Institute prepares specialists with wide range of ecological and chemistry knowledge by two specializations: "Ecology, Environmental Protection and Sustainable Development" and "Chemistry Technology Of Wood Processing And Plant Polymers".
Specialty ""Ecology, Environmental Protection and Sustainable Development"
Specialty includes two specializations:
Environmental Management
Ecological Safety
Ecological wellbeing dramatically falls yearly. Ukraine also has loads of environmental problems, which even became more dangerous in context of Chornobyl Catastrophe impact. Traditionally, it is lack of money and well-trained qualified specialists to cope with this demand. The system of ecological education in our country had being founded only 25 years ago. And in 1988 our department was the first in this field in Ukraine.
Department exclusiveness consists of that fact, that it includes the group of scientists in microbiology and department of Analytic Chemistry. The excellent-qualified specialists from latter one taught students modern methods of controlling environment pollution levels. During the studying processes students obtain fundamental knowledge in such specific disciplines as: Environmental Management, Environmental Assessment, Environmental Audit, Mathematical Modeling in Environmental Protection, Environmental Monitoring, Biology, Hydrology and Geology, General Ecology, Environmental Economics, Radioecology, Natural and Waste Water Analysis, Water Treatment Technology, Design of Water Supply and Waste Water Treatment Systems, Recycling and Recuperation of Solid Waste, etc.
Nowadays, our department alumni work in wide spectrum of economy sectors. This includes all branches in such institutions as The Ministry of Environmental Protection with its departments on different state levels; The Ministry of Regional Development, Construction, Housing and Communal Service – who is in charge for water supply and treatment. Also specific and academic science institutions, industrial corporations are willing to hire our alumni for their Environment Protection Departments and production. Annual, about 15-20% of our former students continue their education by PhD studies both in our university and other scientific institutions.