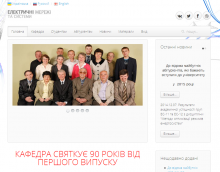 Speciality "Electric systems and networks" (now "Electric systems and networks") is one of the oldest at the faculty of Elektroenergetiki and automation, Igor Sikorsky Kyiv Polytechnic Institute. The first graduates of the Department in the amount of three people took place in 1924 route specialties were Professor G.M. Gorodetsky and professional GL Epstein, who began his teaching activities at the Department since the beginning of the 20-ies and laid the institutional base of the Department of electrical networks and systems in 1921, and officially established the Department was in 1922.
On a budgetary and contract basis full-time, part-time and accelerated forms of training on the basis of full secondary education or technical education (technical school, College) levels:
- bachelor - 4 years (by correspondence - 4,5 years)
- specialist - 5.5 years (by correspondence - 6 years),
- master - 6 years.
the Graduates of technical schools or colleges are offered to Express form of education on bachelor degree, duration of training is 3 years to the day, and 3.5 years for the correspondence courses.
the University Students after school to receive the diploma of the international sample.
the students of the day form of education Department have the opportunity to receive a scholarship, which corresponds IV, the highest level of accreditation of the University and 01.09.2011 is 530 UAH.
Students from other cities and villages of Ukraine are provided with a dormitory.
Also students of the Department on personal desire to have the opportunity to undergo training at the military Department of the University, and simultaneously get the second higher education in different fields at the University.
the Best students given the opportunity of completing their studies at a number of leading universities of Western Europe.
The graduates of the Department work in different fields of energy: in managerial, engineering and maintenance departments of energy enterprises, branch project companies of all forms of property, in scientific research institutes. In particular, graduates Department have the opportunity of employment in control and computer centers of power systems, thermal, hydraulic and nuclear power plants of Ukraine, energy-supplying companies (JSC "Kyivenergo"Oblenergo), the National Power Company "Ukrenergo", in the Main electric networks, electrical enterprises, scientific-research institutes of the National Academy of Sciences of Ukraine, big industrial enterprises, design offices and other commercial and state structures.