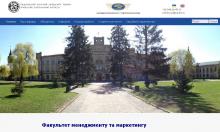 Address: Kyiv, Peremohy avenu 37, bulding 7, apt 522
Phone: (044) 204-98-58, (044)4068068
A specialty "Business economics" is a comprehensive economic specialization. For specialists of this profile needs deep knowledge of microeconomics, macroeconomics, management, finance, marketing, foreign trade, logistics, economics and development strategy, accounting, auditing, production, innovation, business law, etc. They have to good knowledge of foreign languages, information systems and technologies. The fundamental training for a specialty "Business economics" is for all these areas. Popularity and prestige a specialty "Business economics" is confirmed by the high ratings among other specialties NTU "KPI" and a hundred percent employment graduates.
The department has stable relations with enterprises, commercial firms, educational and research organizations. The contacts with international and national organizations to improve business education is supported and developed.
The Department has a strong research and teaching potential. The teaching staff of the department has more than 30 highly skilled specialists with experience in scientific, educational and productive activities. Many of them were trained at leading universities in Europe and the US.four professors, doctors of this branch of science and more than 25 PHD involved in training students.
The department is the largest in number of teaching staff and leading department of the Faculty of Management and Marketing. It maintains 10 institutes and faculties "KPI" and teach 50 subjects, namely:
Business Economics,
The strategy of the company,
Economy and organization innovation,
Managing potential enterprises,
Fundamentals of Entrepreneurship,
Analysis of the company,
Application software,
Planning and control of the enterprise,
Organization of production,
Domestic economic mechanism of functioning of the enterprise,
Finances,
Regional Economics,
Economic theory,
National economy,
The public sector and business,
Financial services market,
Economic diagnostics,
Project Management etc.
The Department has 46 highly skilled specialists, scientists, namely:
Professors - 4
Doctors of Science - 3
Associate Professor - 20
Candidates of Sciences - 25
Teachers and researchers - 2
Teacher-candidates - 5
Teachers inventors – 7
Lecturer published:
Monographies - 24
Textbooks and teaching materials - 61,
Articles 861 of which in journals approved by HAC of Ukraine 334,
Abstracts547
Received: 3 copyright certificates and 11 patents.
The main feature of human resource capacity of the department is a combination of economic and technical education teachers and they experience in scientific and pedagogical and practical economic activity which is confirmed training of teachers at leading universities in the world and well-known commercial and industrial structures and the presence of their professional diplomas certificates and licenses national and global levels.
It's 1439 scientific and 74 methodological works published by the staff of the department.
International scientific-practical conference "Development of entrepreneurship as a factor in the growth of the national economy" is conducted year-by-year on the department base.
Internal Olympics Department of Economics and Business "Know yourself in economy" is an important step in preparing students for the nationwide competition which conducte year-by-year.
The department carries out research on international grants and public research programs.