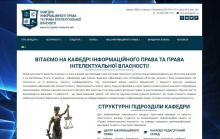 The history of legal education at the National Technical University of Ukraine "Kyiv Polytechnic Institute" (here in after – NTUU "KPI") dates back to 1996, when Faculty of Law was created.
Jagodinsky Vladimir Nikolaevich became the head of the Department of Procedural Law, created in 1998.
In 2007 head of the department was appointed Associate Professor Petriaiev Sergey Yurievich Ph.D. who is the head of the department at the present time.
Subsequently, in 2009 the name of the department was changed to the Department of Information and Business Law, in connection with the merger of two departments: law and sociology.
2012 was marked by events leading to reforms, which on the one hand were the turning point in the history of the department, and on the other – laid the foundation for a new stage of development of legal science on the Faculty. Thus, the president of the university formed the concept of legal departments of the university. Together with the Research Institute for Science and Law of the National Academy of Sciences of Ukraine (hereinafter – NDIIP NAPrN), Department of Law initiated a reform process of training students by legal departments of the faculty according to the demand of the present time. In pursuance of that concept and the agreement between Igor Sikorsky Kyiv Polytechnic Institute and NDIIP NAPrN of Ukraine, the Educational and Scientific Center of Informational Law and Legal Informational Technology (hereafter- Center) was created in 2013, and has changed the name of the department to the department of informational law and intellectual property rights.