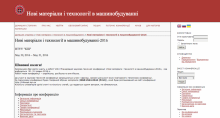 To participate in the scientific conference are invited scholars and experts, the direction of which is related to the themes of the conference. Working languages of conference are Ukrainian, Russian and English.
Advanced material can be given for publication in professional scientific journals "New materials and technologies in mechanical engineering"
Number one article co-authors and articles provided by one author is not limited.
BASIC WORK ASSIGNMENTS OF CONFERENCE
Modern technologies Casting, steel and nonferrous metals.
New materials for making molds and cores.
Stick coating for molds and cores.
New materials and technologies in various industries.
Technologies to increase durability of parts and tools.
Automation and mechanization of production processes.
Management and Economics in the steel and mashynobudivnoy areas.
Mathematical, physical, simulation, computer and information technology.
Modern and advanced methods of quality control.
Methods of secondary processing of liquid metal.
Environmental engineering problems.
Training, retraining and advanced training of engineering specialties.