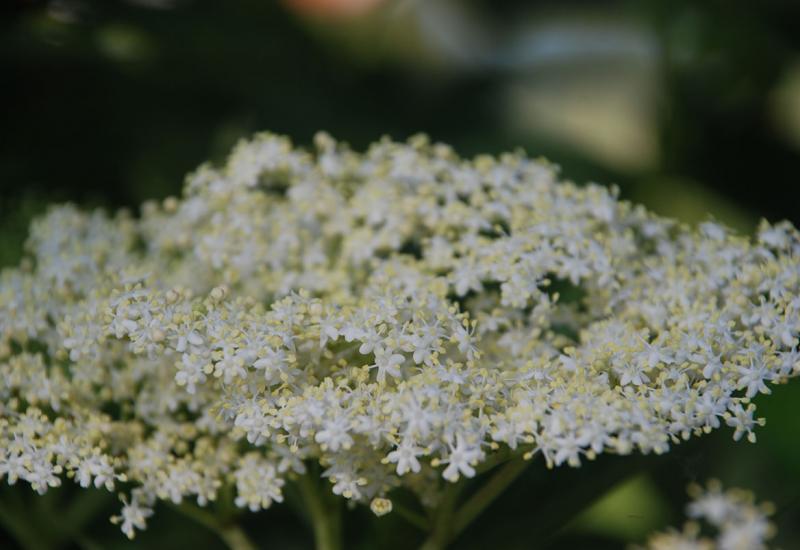 "Girls, what a bride I've just met", – with such an exclamation ran into the room young co-worker. (We are working in the main building, windows look toward the central entrance that is why we got used to the numerous wedding photosessions). "Seven meters height", added she triumphant delighted with effect. Last half an hour admired we in concern the beauty of enormous bush which was hiding in the corner of the first building in front of the designing benches and machines department. Spectacular, richly flowered with lacy inflorescences against a background of emerald and ornamental leaves, it was reaching to the second floor and from far away was looking as foamed-white bride.
With closer familiarity with bush-tree it appears an ordinary bourtree (Sambucus nigra) rather big size. Specialists do not consider an elder to be the queen of beauty. But, without doubt, it catches the eye: in spring – with inflorescence-plates up to 25 cm in diameter, in autumn – with umbrellas of black-blue edible berries. Outwardly, bourtree is similar to it's sister – boortree (Sambucus racemosa). The differences are noticeable while blossoming. The boortree has plain inflorescences of sulphur colour, up to 6 cm in diameter. The leaves' smell is strong and unpleasant. It is thought to scare away mice. But, as summer residents say, illiterate tribe don't even guess about it and continue burrowing underground passages right under the roots.
The plant was used in everyday life long ago. Dyes were made from berries as well as ink they were also used at cleaning dishes etc. Fruits and flowers were used as food and medical raw materials. They have diaphoretic, antipyretic, diuretic, expectorant, anti-inflammatory, soothing effect. Flavoring properties of berries will not cause enthusiasm among gourmets. But there is something piquant in combination with other components. Internet is full of recipes of delicious food and drinks from elderberry. But do not forget that eating lump of elder berries may be poisonous.
As about any well-known plant, there are several fairy tales and legends to be told about elder. One of them says that once as magnate, was hunting in dense forest, he fell behind the suite, and lost, then he came out to the lonely hut, near which an old was sitting and crying. When he asked about the reason for tears, grandfather complained that his father beat him for contempt of his grandfather. Surprised nobleman went into the house and saw two ancient old. He was amazed and asked how to achieve longevity. And grandfathers told him that all their lifetime they are living in the woods, working on the land, and feeding mainly with bread, milk and cheese. And take the berries of black elder, and which owe their health.