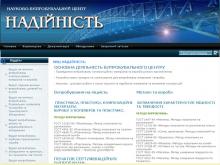 established in 1995,
Scientific Advisor of the centre is Prof. Dr.-Ing. Bobyr Mykola Ivanovych.
Telephone number: +38 (044) 236-10-43
TEST MODE LIST according to accreditation branch of CRE:
Material samples test operations of resistance to extension, compaction and camber. Determination of material strength and ductility characteristics.
Hardness measurement of metals by Rockwell and Brinell hardness tests.
Determination of products surface roughness.
Determination of material structure characteristics.  
Surface defect analysis.
Measurement of geometrical characteristics and deviation.
Determination of heat and frost resistance of plastic and rubber.
Determination of resistance to corrosion environment.
Determination of plastics elasticity modulus.  
Determination of efficiency of weld joints.
PRIMARY ACTIVITY OF CRE:
Test operations of construction materials and products of various purpose;
Development of new methods and equipment  for test operations of materials and products;
Scientific-research works in field of strength and reliability of materials and construction elements.