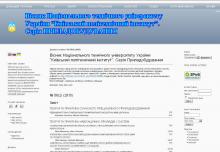 Bulletin of National Technical University of Ukraine "KPI". Series Instrument Making was founded in 1970. This scientific publication contains reports on scientific and experimental research of the problems involving creation of foundations for modern instrument making industry with a wide range of applications, precise processing technologies, and intellectualization of production process.
It is intended for scientists, engineers and technicians, businesses operating in the instrument making industry, and senior-grade students specializing in the instrument making.
Scientific publication
UDK 621
Founder - National Technical University of Ukraine "Kyiv Polytechnic Institute ".
Certificate of registration - KB series # 8371, January 29, 2004.
Certificate of registration - KB series # 18085-6885P, August 30, 2011.
ISSN 0201-744Х; 0321-2211