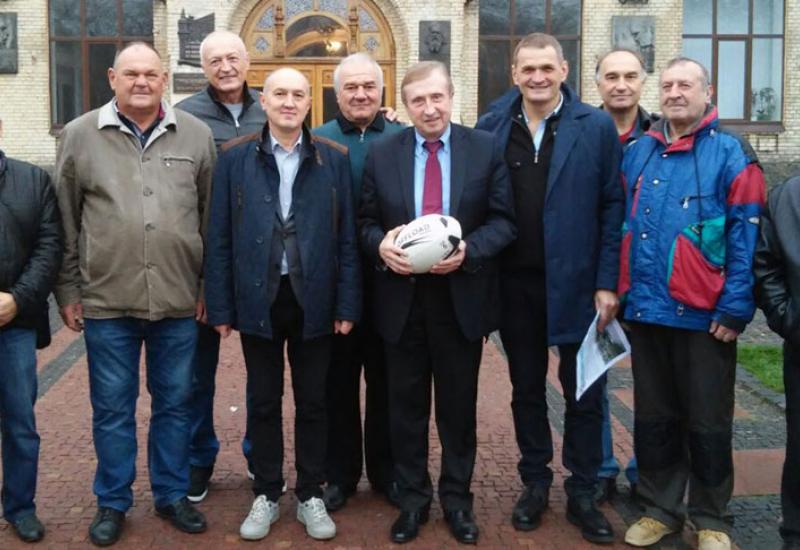 The rugby-players of our club "Polytechnic" are graduating students of Igor Sikorsky Kyiv Polytechnic Institute, champions of Ukraine, champions of Soviet Union among students. They met together on the 25th October in the main corps of university to honor our university, that not only taught them for profession, but also taught how to overcome difficulties and enjoy success. The rugby-players visited the avenue of university and put flowers to the monument .
M.Zgurovsky met with the rugby-players champions. He also congratulated sportsmen and thanked for their spreading of healthy way of life among young people and students. M.Zgurovsky supported the initiative of veterans - to create in Igor Sikorsky Kyiv Polytechnic Institute the exposition of rugby history from 1962. Also rugby-players were congratulated by a pro-rector from the advanced study V.Pasichnyk that wished to the sportsmen good health and close contacts with university.
The 60th anniversary from creation in our university the first in Ukraine rugby command will be celebrated in 2022. Among basic measures it is suggested to set on territory of university a memorable sign to honor rugby, land the avenue of trees and flowers and conduct a holiday with participation of rugby-players of all generations. The rectorate, university administration, trade-union committee, leaders of institutes and faculties supported the development of sport in university. Due to it sportmen gained a great amount of victories on the stadiums of Ukraine, Soviet Union and the world.