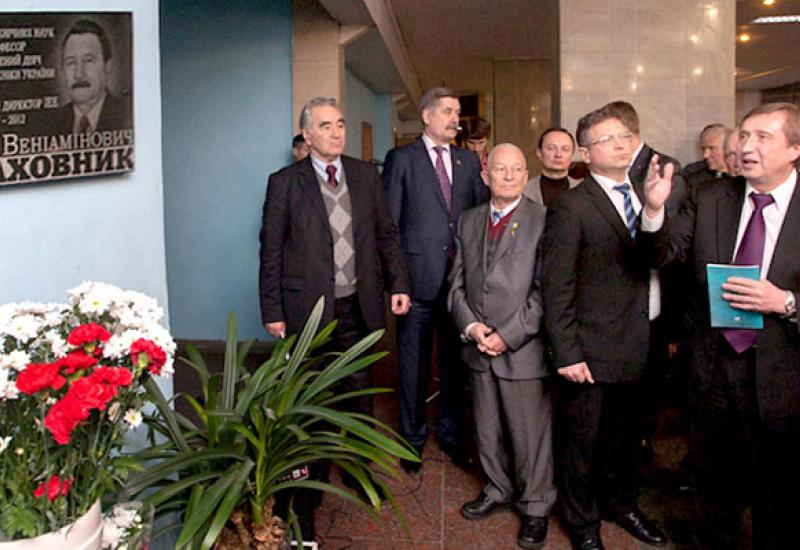 December 18, a memorial plaque to the outstanding scientist, the founder of the Institute for Energy Saving and Energy Management NTUU "KPI" Arthur Veniaminovich Prakhovnik was opened during the solemn ceremony.
A.V. Prakhovnik, Ph.D., Professor, Emeritus Power Engineer of CIS and Ukraine, Honored Scientist of Ukraine, laureate of the State Prize of Ukraine, professor emeritus NTUU "KPI", is known for his fundamental works on modeling in energy, automation of power of objects , forecasting, optimization of supply, energy management, formation of principles of construction of power plants on the basis of distributed generation sources and micro energetic smart systems, including renewable energy, and ecologically effective smart homes and cities.
Arthur Veniaminovich Prakhovnik went down in history of the Kiev Polytechnic as the founder of the Ukrainian scientific school in the field of energy management. He started the training in the field of "Energy Management". The result of his work as director of the IESEM is the creation of a system of education in Ukraine and the opening in 1997 of a new specialty "Energy Management", the creation of a network of energy managers training in Ukraine.
Celebrations to mark the opening of a memorial plaque were opened by the Rector of NTUU "KPI", academician M.Z. Zgurovsky that comprehensively described the achievements of Arthur Veniaminovich as an outstanding scholar and teacher, whose creative scientific life is forever linked to his alma mater - National Technical University of Ukraine "Kyiv Polytechnic Institute".
The people's deputy of Ukraine D.I. Andrievskii, vice president of NAC "Energy Company of Ukraine", chairman of the All-Ukrainian Council of veterans of labor power, the Hero of Ukraine S.I. Potashnik, director of the IESEM S.P. Denysiuk, chairman of the Pechersk Rada in Kiev O.V. Mazurchak, head of energy efficiency KSCA V.L. Lisovik, honorary chairman of the Trade Union of Education and Science of Ukraine L.S. Sachkov shared their memories about A.V.Prakhovnik . In particular, D.I. Andrievsky said: "I was lucky enough to be a student of Arthur Veniaminovich. As we commemorate his memory, we keep the tradition that this outstanding scientist and talented teacher started, we continue his work. After all, as wise as a famous philosopher said: "The lives of those who have left us, going on in the memory of the living."
The daughter A.V. Prakhovnik – O.A. Prakhovnik said the words of gratitude to the audience..
The memorial plaque is placed in the lobby of the building number 22.
S.P. Denysiuk, director of the IESEM.