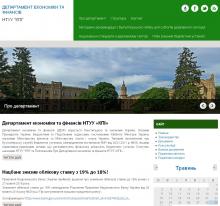 Head of Department: Lyudmyla Subbotina
Tel. / Fax 204-90-17
e-mail: subbotina[at]kpi.ua
Department of Economics and Finance is governed by the Constitution and laws of Ukraine, Decrees of the President of Ukraine, budget and tax codes, the Cabinet of Ministers of Ukraine, Ministry of Finance and the The Ministry of Education and Science, Youth and Sports of Ukraine, statutory provisions of the accounting service of budget institution approved by the Cabinet of Ministers of Ukraine from 26.01.2011, № 59, and other regulatory and legal regulatory governing the financial activities of budgetary institutions, the status and the orders of Igor Sikorsky Kyiv Polytechnic Institute and the Regulations of the Department of Economics and Finance.
Structure of Department of Economics and Finance Igor Sikorsky Kyiv Polytechnic Institute:
) The Main Accounting Department
The Planning and Finance Department
Planning and Financial Service
Department of Audit and Control
Branches of DEF at university departments
The main tasks of DEF:
prospective and routine planning of the needs of the University in the general fund and planning of debit and credit at the special fund in general for university and the individual units;
development and approval of manning table from all sources of financing, ) introduction of alterations during the year. Maintain the staff discipline;
accounting financial activities of Igor Sikorsky Kyiv Polytechnic Institute and reporting on forms and in the terms provided by law;
reflection in the documents of reliable and comprehensive information on business operations and performance required for the operational management of budget appropriations, financial, physical and intangible resources.
ensuring observance of the budget laws during the passage of the budget obligation , the timely presentation of them for registration, transaction of payments according to law;
monitoring the availability and movement of property, the use of financial and material (intangible) resources in compliance with approved budgets and effective law;
prevention of the negative cases in the financial and economic activities, identification and mobilization of internal resources;
guidance and supervision of regulatory compliance of current legislation of planning, accounting, preparation of financial and budgetary statement by the branches of subdivisions;
execution of methodological work of accounting, planning and financial activity;
DEF is an independent department of the University, which is subordinated to the Rector.