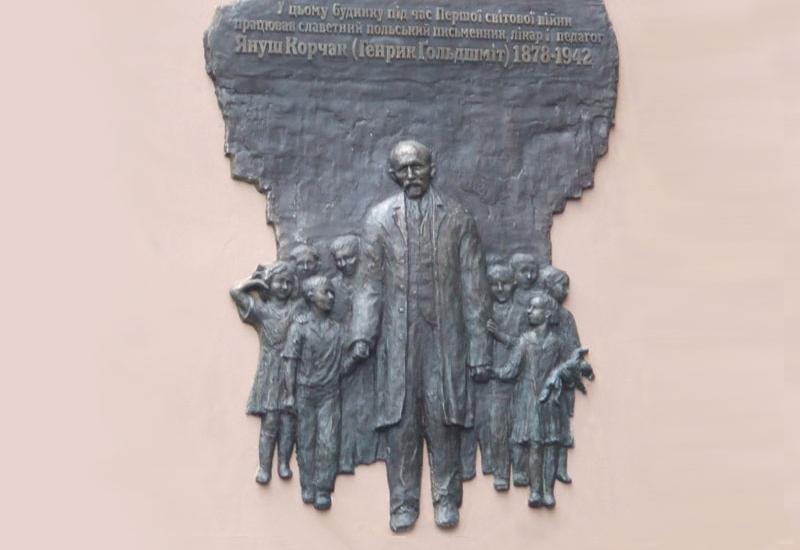 Kiev in the frame of Yanush Korchak Days. Last year, the 70th anniversary of the death of the great humanist was celebrated in Treblinka, and 100th anniversary of the foundation of his House for orphans in Warsaw.
The stories about Yanush Korchak usually start with the end of events
August 5, 1942. On this day, by order of the German command old Dr. Janusz Korczak, the head of the House of orphans had to lead his fosterlings to the train station to Umshlahplats. Varsovians already knew where trains depart from the station, and Korchak had no illusions. Yanush Korchak did not avoid from free choice, went a honest way to the end, and together with his fosterlings died in the gas chambers of Treblinka.
August 5, 1942 was the day of the logical conclusion of 60 years life of Yanush Korchak, who could realize three the most humane professions: a doctor, teacher and writer. He was one of those great people, when they are alive, people tell jokes about them, and the legends after their death. Yanush (real name Henryk Goldschmidt) was born in 1878 in a wealthy family of lawyer Goldschmidt, but the early death of his father put an end to the welfare of the family and, perhaps, Henryk's childhood.
Little schoolboy had to make tutoring, then graduated from the Medical Faculty of the University of Warsaw. Very soon something was awaken in Henryk Goldschmidt that he then called his "passion of education". Firstly, he is pediatrician who has effect on his patients, and secondly, he is a journalist whose word is becoming more significant for the reading public, and thirdly – he is a teacher." When he was a young doctor with a bright future, ... he decided that his vocation is medicina pauperum (medicine of poor people) not the medicina aurea (medicine for rich people).. When he started to write and with the release of the first book "Child of the living room" literary fame was came to him, contrary to the title of this book, but according to its contents, he gave his pen to disadvantaged children.
Doctor Korchak was invited to the wealthy houses, where he received large fees (how else the money he would buy medicaments for poor children?) faithful Mortkovych publishes his books, which enthusiastically are read by the entire country, both adults and children, educational institutions, which he heads, supported by cash contributions from top officials.
For adults he is author of children's books and for children to whom he is attached, he is still an adult, that is , in the words of one little girl, "ugly skin on the head and has the habit to talk some stupid things." He is antimilitarist and Polish patriot, he was involved into two wars ( the Russo –Japanese War and World War I) as a doctor and officer. He is a bachelor, but he has a huge family: hundreds of children. He is a teacher among doctors and doctor among writers. Headed by Korchak educational institutions such as Our House (1919-1935 years) , and House of Orphans (1911-1942 years) look small "state within a state" , they have its own laws and constitution.
If anyone is guilty, the best decision is to forgive him. If he is guilty because he did not know , now he already knows . If he guilt was made unintentionally, he would be more careful . If he was guilty because he was hard to get used to do differently, he would try to get used to. If he was guilty because he was persuaded by guys, he would no longer listen to them ... But the court must protect quiet guys so they would not be offended by strong... and protect the honest and hard-working, so they would not interfere by immoral and lazy ..." He talks gratefully about his health, which helped him to bear the burdens of life, does not forget to mention the wonderful appetite, emphasizes his ability to be satisfied with a little in household, calls his teachers in medicine, pedagogy, literature (especially Chekhov) sketches service record and recounts his trips and travels. Among the places, which are worthy to recall, Kiev was called twice. Here in Kiev, he conceived and began to write his most famous work of teaching, the book "How to love the children." In Kiev, sad writer in uniform of military doctor found himself in the centre of pedagogical passions. On the streets of Vladimir the Great, the house number 47 in the First World War was placed a private polish school for girls. Yanush Korchak visited that school, getting in his war hospital three days' vacation.
In the summer of 1917 Korchak appeared in Kiev again. He took a room in the basement for Instytutska street. Here, he, inspired and generous legislator, created the "Lawbook of comrades 'court', the same in every line proclaimed his justice and mercy. Volodymirska 47 is the only survived building associated with being of Korchak in Kiev. In the spring of 1918 he returned at home, the House of orphans, having an almost complete work in Kiev "How to love the children" ...
Olena Tarasuk