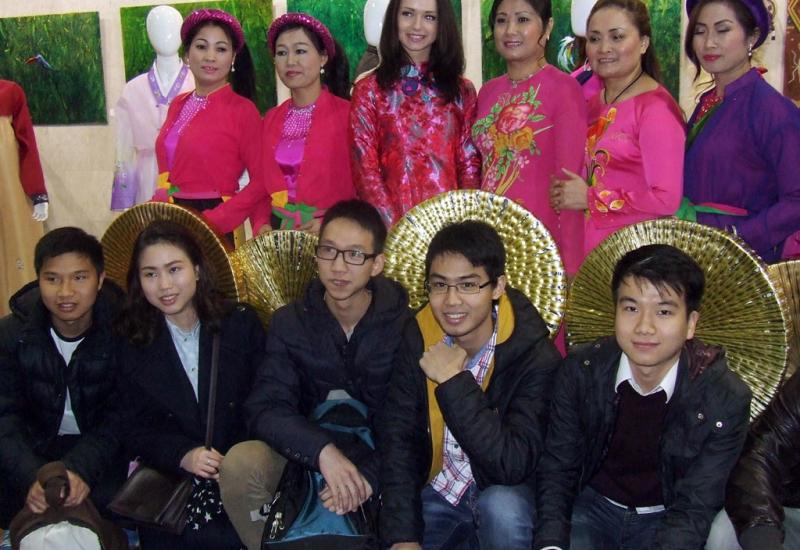 Foreign students "KPI" willingly participate in various cultural and educational events. November 8, 2014 the citizens of Vietnam and the Republic of Korea have become active participants in the festival cuisine and cultures of Asia, held in NCC "Ukrainian House". They had a great opportunity to invite their Ukrainian friends to the festival organized by the Embassies of Vietnam, Indonesia, Malaysia, the Republic of Korea, Pakistan and Japan in Ukraine and the International Fund for Cultural Cooperation, and plunge into the world of unique culture, cuisine and art.
The event was saturated with an atmosphere of goodwill. Chairman Vietnamese fraternity Nguyen Ngoc Duc, a student of 3rd year FMM, met the guests near the Ukrainian House. Nguyen Sinh Gouy, a student of 2nd year of FICT with her friends treated the guests with Vietnamese coffee and traditional local food. Nguyen Duy Phuong, a student of the 5th year of IME, spoke of his country, traditions, way of life. Ukrainians gladly tried on conical hats that are a necessary part of the national Vietnamese clothing protecting from the sun and rain. Nguyen Thanh Ngo Duc and Wee Han, students of 1st year FE, invited to see the exhibition of works by artists, sculptors, masters of embroidery. Visitors were fascinated by the unique landscapes of Vietnam. They were  particularly impressed by the picture of Vietnamese master depicting the landscape of Ha Long Bay, which can rightly be called one of the modern wonders of the world.
The pearl of the holiday was the show of national costumes Indonesia, Vietnam, Malaysia, the Republic of Korea, Pakistan and Japan. Vietnamese were the most active in the show. Representatives of different generations demonstrated costumes.
It was interesting to watch the performances of dancers, and everybody wanted to join the performance. Vietnamese girls introduced the national dance with traditional hats and fans. There were songs in Ukrainian, English, and Japanese. Sincere, professionally executed, they will be remembered for long.
The highlight of the festival was a master class in cooking various dishes: Koreans prepare national dishes - Cimpan, national cuisine of Malaysia was demonstrate personally by the Ambassador of Malaysia to Ukraine Teong Ban Chua, Japan was represented by rice noodles, Pakistan - a traditional dessert.
The participants received detailed information about the culture of the countries represented. Wishing to travel to Asia got tourist booklets. There was a lottery with prizes provided by sponsors. You could buy souvenirs and take pictures on the memory of an unforgettable encounter. Funds received from the sale of souvenirs during the festival, are envisaged to use for the needs of soldiers ATO.
Both participants and organizers received the pleasure from the festival. Communicating, students build a solid bridge to understanding, which is key to peace and harmony in the world. I would like to thank the organizers of the festival for an interesting, intense action and wish the festival to become the annual traditional holiday in Ukraine.