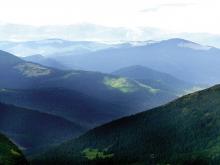 Students mountain sports camp "Globus" enjoys wide popularity among polytechnic students - current and former. It is located in Ivano-Frankivsk region, near the entrance to the National Park, 8 km from Goverla, every summer it brings together dozens of tourists who want to improve their health, gain useful skills and dive into the unique charm of the Carpathian nature.
Huge experience and achievements of predecessors – former manager of the camp and master of sports S. Balytskyi, head of Studies Department L. Payzanskyi and many others – and their contribution to the creation and development of the camp make it possible every session (and there are three of them in summer) to provide a variety of hikes of different complexity for polytechnic students.
Administration and trade union of KPI take care of the student health center work. Two years ago, the land and buildings of the camp were finally transferred to the ownership of NTUU "KPI". Although there is still a lot of work for the improvement and development of the territory, students gladly come to camp. They can't be frightened by camping life, and what is the most important - a positive attitude, fantastic nature and professional training are provided to tourists.
Thousands of students visited the "Globus" during 15 years of existence; many of them subsequently continued their mountain trails, conquering peaks of the Caucasus and the Pamir. But students are the ones who say the best things about "Globus".
Mariana Trocenko, instructor : ""Globus" is a ray of light that lit the deepest corners of my soul, changed my life, opened new horizons and opportunities for me.
Tourist camp KPI is a combination of cheerful mood with the natural conditions of life, gaining life and professional experience, openness, kindness and much more. Of course, songs around the campfire, lots of love and an ocean of positive news. "Globus", I love you. Thanks to you I discovered new Mariana."
Here are some other impressions. Women's opinion: "Nothing pulls together people like eight-hour climbing mountain slopes with slippery pebbles underfoot, drying socks around the fire simultaneously with preparing dinner, sleeping in "zshyvka". "Globus" - is, above all, new friends . Thank you so much for the brilliant vacation." Men's opinion: "Globus" is a place where you want to come back again, despite the difficulties of hiking and unpredictable weather. A wonderful team is gathering here."
According to all who rested or works at the camp, it is necessary to make only one step towards the tourism fraternity and home nature - buy a ticket and come to the camp. Magic of the local mountains and journeys is insurmountable. You will forever remain an ardent supporter of the "Globus".