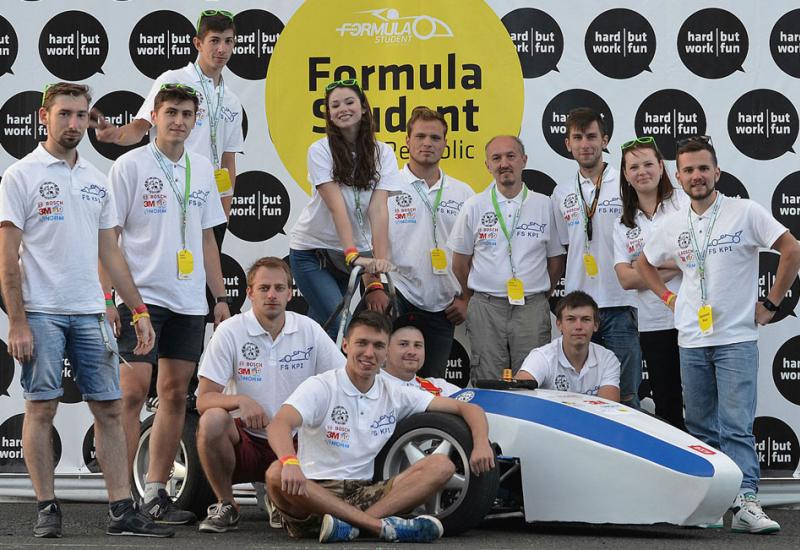 First time in history KPI student team created its own sports racing car and presented it to the international competition Formula Student Czech in the Czech Republic.
"Formula Student" - is an international engineering and sports competition, held under the auspices of the International Association of Auto Engineers - SAE International. This year, all over the world took part 502 team. In Europe, these competitions are held in 7 countries. The team that built their own car, can take part in several stages. Selection is competitive.
Tells team coordinator, chair of department integrated technologies of engineering prof. Vitaliy A. Pasichnyk.
How did the idea of creating in KPI a car series "The formula Student"?
A year ago, reading the terms of the competition, I initiated the team creation in KPI. The idea is that students throughout the year design and produce a racing car which then takes part in competitions. Works regulated technical requirements of about 200 pages. In this work can take part students, postgraduates and one teacher-supervisor. I became the coordinator of the team. For advice and help creators may apply to teachers, on the company, production, etc., but the assembly, testing and trials perform only team members.
Who became a member of the project?
The project is complex and requires a knowledge not only engineering, but also economic and marketing. This kind of virtual enterprise where you need to create a product and successfully bring it to market. In addition, there is a possibility to take part in prestigious international competitions. Students learn to design, produce and find funds for its creation.  The project is a university, take part all comers. During the year, agreed to try his hand about 100 people. As a result, formed a team of 14 students and postgraduate who worked all summer without weekends, and in the last week before the trip even slept in the laboratory.
What are the stages of creation a bolide you can name?
From the beginning, we started looking for contacts with potential sponsors because the project of this magnitude requires considerable resources. In different ways we contacted more than 200 companies with a proposal to support us. Eventually we were able to enlist the support of companies such as BOSCH, and 3M. Significant support to ensure the project components, workpieces and services have provided KDTU and Norm Civata. And we would not have coped without the help of Alexander Silchenko and Vladimir Korenkov that helped not only advices.
As for the project of bolide, the first in three-dimensional design environment, Autodesk Inventor and SolidWorks designed the machine. We made the frame design and its physical maquette made of wooden slats. It turned out that it is too large, so the next version made compact. Then there was a long search variants create various machine components to make them in conformity to the regulations, and is available to us through technology and finance. Considerable confidence we have added three grants that managed to win 10 thousand. UAH from company SanInBev (bought rims with tires and tubes, of which the frame was made), a powerful laptop from the company Autodesk CIS and 100 thousand. UAH from company Nescafe (thanks to all KPI community for supporting !!!) -These money was spent on the completion of the car, purchasing a 600-cc motorcycle engine from Honda Hornet and for trip.
In fact, all the work on the creation of machines began in July, when all are delivered from the session and graduation. There were a lot of hard manual work. The frame to weld for two weeks on KP "Kyivpastrans" in the laboratory MMI produced a pedal unit, steering, transmission system, pilot seat, 5-liter fuel tank, electricity, brake system. Everything was done the hands of students. Note that along with a lot of manual work and high technology used. Thus, much of the suspension parts and transmission are made of aluminum alloy D16T and V95 milling on CNC machines; pedal unit, brake discs, transmission elements and amortization leverage systems were produced using laser cutting, prototyping used technologies in three-dimensional printing, and so on.
With what mood went to the competition?
On the competition the car transported disassembled because the finished product just did not have time to issue legally. But nobody could explain how to execute documents for export-import engine. It was decided not to risk, leave the engine on the border and participate only in static tests. Colleagues from Czech and German teams help us find the engine in Europe, but unfortunately we did not make it on time to deliver. We tried to the last to participate in the dynamic events. Unfortunately, failed.
How were racing?
They consisted of two stages: static and dynamic. First is a technical inspection Scrutineering professional auto car engineers to meet the requirements of technical regulations. It consists of technical inspection, the test for overturning, measuring the noise of the car and brake test. The mechanical inspection is checking on the correctness of car manufacturing in accordance with the regulations; car noise should not exceed 110 dB Tilt Test is a test for overturning a car at angles of 45 and 60 degrees; Brake Test is a test for the simultaneous locking 4 wheels, must operate reliably under the rain, when braking the wheel block all others. In parallel with the technical inspection is static stage:  Design Report is the stage at which designers are responsible for their projected unit must justify the choice of design, materials, components, calculation methods, technologies and others. All design decisions must be confirmed by simulation results or estimates or to be processed on the spot. Separately, was estimated a report about the cost of manufacturing machinery by Cost Report. Here, all the costs of components, work etc. should calculate and present. Business Plan is a business-presentation of the concept creating a small-lot production of automobiles, where the team analysis market risk, target audience, assess competitors, calculated payback period of investment.
Dynamic competition consists of four disciplines: Skidpad, Acceleration, Autocross and Endurance. Each of them examines some dynamic characteristics of the car. Thus, the  Acceleration compare a speed-up: in how many seconds the car will travel 75 m, Skidpad is a "eight"; Autocross is the passing the tortuous route. Apotheosis competitions is Endurance it is speed the route length of 22.5 km, where fixed speed and fuel consumption. Incidentally, the maximum speed for the Regulation may not exceed 130 km / h.
At each stage of static and dynamic testing the team gaining points and win the team that collected the most total points.
How reacted on KPI car?
With pleasure I want to note that during scrutineering our product has not received any fundamental concerns. Of course, certain elements could do better aesthetically, but do not forget that we have limited funding. When we told how long it took us design and modeling, other participants said that it's fantastic, in this time to meet impossible. Usually on such work teams spend 2-3 years.
The atmosphere was very friendly competition because all students learn, share experiences and enrich their knowledge. Our students learned foreign colleagues to do some design elements manually, and not on the production order, as it is abroad. So good, faster and cheaper. Many helped us, and we asked for help.  For example, the wheel of our car we borrowed for the race team from Slovenia.
What are going to do in the near future?
According to the regulations of the competition, one of the same product may not take part in these races, the year it has to be modernized. That is, we test the car thoroughly, identify weaknesses and improve its design to show better results. Interested relate to our work graduates of KPI that helps free materials and components. We plan to expand the staff team, as the current number of people is insufficient to teach beginners and to continue working on improving the product, so that next year to represent it in Europe at prestigious student competitions.
We plan to expand cooperation with sponsors. When there was no real machine, but only model, it was difficult to convince of something, and now we have a ready concept and able adequately it to advertise. Basically we rely on the help of foreign companies, where support student projects is the rule of life. For example, the Czech team had a general sponsor company SKODA Automotive, and the model of German teams which well-behaved demonstrated, staffed in knots tens of thousands of euros. Companies that invest money in youth developments, in a result get qualified engineers, who are able to solve technical problems in a professional manner.
So, having gained some experience, we are disposed for further work and hope for a successful performance.