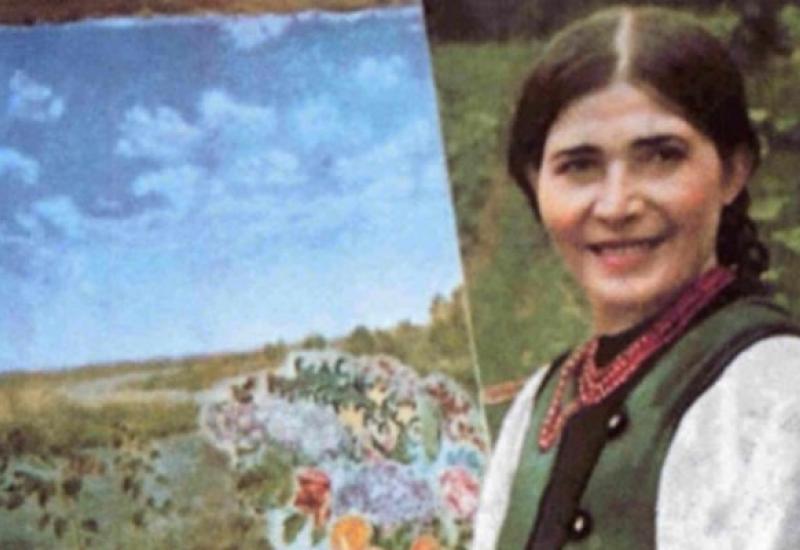 Nobody made poetry flowers as Catherine Bilokur ... In a letter to employees of the Central House of folk art, she wrote:
"Or maybe you're unhappy with my work that I paint only flowers? I paint them because they are so beautiful. I myself, starting to paint a picture of flowers, sometimes think – when I will finish it, then I will start something else from human life. But while work I imagine another pictures with flowers, and each other more wonderful and beautiful from each other. And as spring comes and the grass is green, and the flowers bloom ... Oh, my God, you will look like a circle, then beautiful, and even better, but also more beautiful.
And it seems they even inclined to me and say, "Who will paint us if you leave?" So I forget everything in the world and again paint the flowers. Oh, do not be angry with me, my near and distant friends that I paint flowers ... ".
Poetic power of pictures of Catherine Bilokur with flowers so high that it caused poetic reminiscences of a whole generation of poets.
Here are the lines Catherine Kvitchasta dedicated to color pictures of Catherine Bilokur "Wildflowers" (1941):
This tender flower of the field
This refinement stems -
Get in the boat and swim.
Inspiration wave creeps!
Beauty has no shores,
Has no restrictions -
Lies in finding words
Canvas colorful haze ...
And these are the poetic lines Ivan Drach:
Athens, Paris, New York -
the stars are really huge.
But my chest breaks
Only with viburnum from my native land
Center of the world to me - near the house,
Where elm noises Catherine.
Catherine capital Bilokur Oles Gonchar called Bogdanovka - the village of Kiev region, near Yagotin where she was born December 7, 1900. God-given home land was designated for a future artist more tests. Joyless children and girlish years: learning to read and write independently, dreary farmer's work. And the rare hours of drawing ...
Awakening of the soul started from the magic word " the artist"!
"I learned that there are people in the world - artists ... and somehow magical, beautiful struck me as something majestic word - artist" - she wrote. Catherine downright prayer refers to Kobzar "Taras Grigorovich, my dear, my dear, you do know it well, too, once roamed the world and people were looking for, even though you are dead, help me to become an artist!"
Lofty ideas of beauty, goodness and purity - that's what flowers Catherine Bilokur.
Original painting of Catherine Bilokur in identity. Originality ... No write, read or draw not learned from anyone Catherine - all by herself! A whole world of thoughts, feelings, experiences - all poured through the images and shapes of flowers. Amazing skill. Especially considering the great difficulty of drawing flowers.
Independently Catherine Bilokur penetrated the complex painting process, took possession of the oil painting, drawing, watercolor. It does not do preliminary sketches (folk art type) - in her imagination it was developed the complete picture. She begun to draw from individual components, going to the end of the work. The artist did not copy flowers, nature, but created their composition.
Difficult and at the same time infinitely interesting her work was.
Over the years it came the recognition, life has brought Catherine Bilokur human honor. She communicated with P.Tychina, M. Bajan, V.Kasiyan, S.Kirichenko, I.Gonchar, N.Gluschenko. Oksana Petrusenko, Matthew Dontcov, students and others wrote her. The best masters of the art of speech in Ukraine, diaspora and painters wrote about her. Historiography glorious life and work of Catherine Bilokur was researched and made by Nicholay Kagarlitskiy (see. "Catherine Bilokur: I'll be an artist" and "Catherine Bilokur with eyes of artists").
... Master left the world on June 10, 1961. Catherine had a short life, but her works are known – they were exhibited in Poltava, Kiev, Moscow, Paris, and today are the part of world culture. They are stored in the museum-estate of C.Bilokur in the village of Bogdanovka, Yagotynske Art Gallery, State Museum of Ukrainian folk art, Poltava Art Museum.
In Kiev, there is a street Catherine Bilokur. The masters of the brush have the opportunity to contest the award named after Catherine Bilokur.