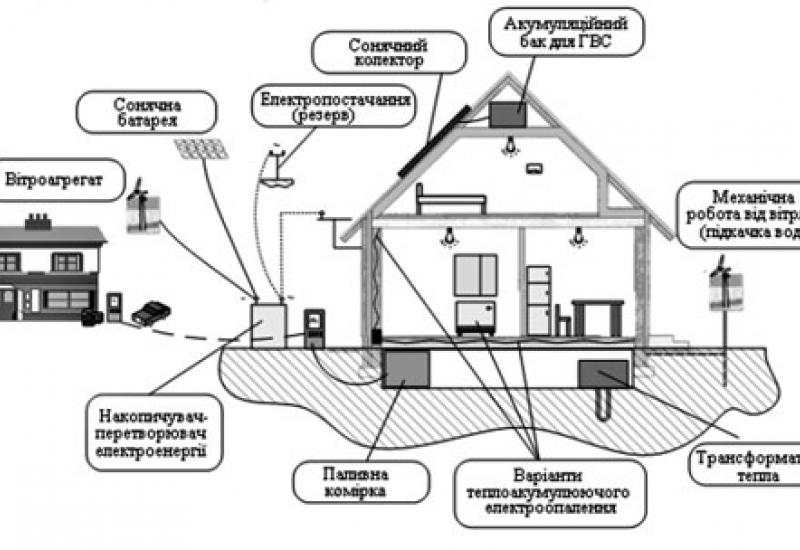 The Institute for Energy Saving and Energy Management already know how to make human habitation in the near future, comfortable, and environmentally safe.  The director of the Institute A. Prakhovnik tells about specifics of the smart eco house.
Increased attention to environmental protection in the world and the problem of depletion of traditional energy sources are pushing humanity to the design and construction of energy-efficient comfortable home with autonomous life support systems and the regeneration of waste with the use of alternative energy sources.
Some experience in these developments is already accumulated abroad, but single comprehensive decision-making model does not existed for today. There is no holistic concept of building an energy-efficient eco house. Also problematic is the lack of scientific methods and approaches in its design.
Modern cottage is complex technical autonomous system. It combines system software microclimate, water supply, energy use, energy and intelligent monitoring and control, which interact with each other.
To increase the comfort of these homes, new requirements for the architecture and construction are put forward. It is all about a consideration of external climatic factors, ie the average annual temperature and humidity parameters of air masses, the number of sunny hours. So you can create requirements for walls, basement floors and upper floors, windows, etc. and thermal power balance of the building, external walling.
The system water supply provides to the house quality drinking water. This is due to multiple and working system of water purification and decontamination of waste water, because they contain large amounts of organic contaminants of anthropogenic and natural origin.
Household appliances are selected to decrease energy consumption. This will be possible due to the diversity of the economy mode. This power unit can be quite large due to functional equipment.
The system will operate energy from renewable energy sources.
All functional systems focused solely on performance goals. Their most important feature is that they can dynamically change objectives and ways to achieve them if the situation changes. By ensuring a high level of flexibility, dynamism and adaptation of the system meets intelligence - natural, artificial or combined.
Intelligent control system of the eco house create a single information tire that has the ability to manage and control from anywhere without restriction for the purposes of intelligent building management and communication with the outside world.
There is a need to create a unified concept of intelligent energy efficient eco house. It can be built only after learning the interrelationships of all subsystems and the influence of external environmental factors using the methods of systems analysis or operations research.
The result of the development of intelligent energy efficient eco house is the accumulation effect of architectural and engineering solutions on energy saving at the stage of consumption, and in energy supply and building management systems aimed at saving energy.
May 30, 2007 || By  I.Ivanova