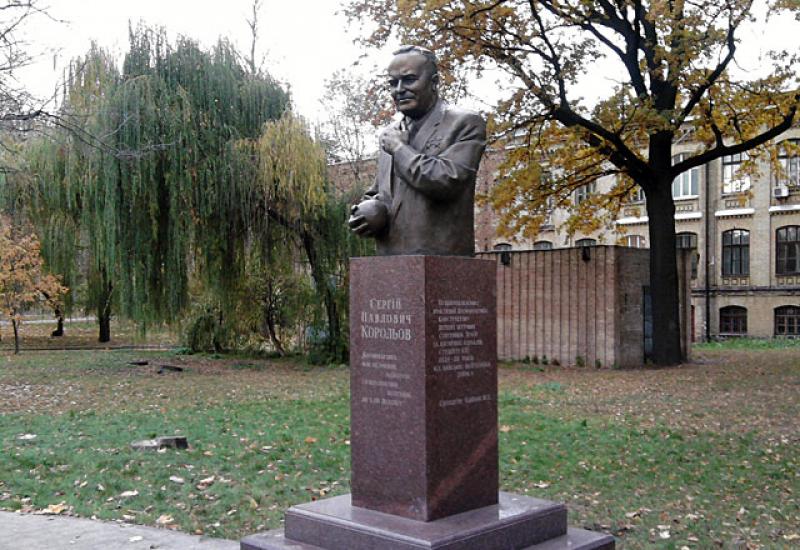 Among the festivities, which take place in Ukraine on the occasion of the 100th anniversary since the birth of its famous son – a genius scientist, designer, a man of intellect and talent Sergiy Pavlovich Korolyov, is monument unveiling on campus NTUU "KPI" territory, where the future design manager was studied in 1924-1926 at the engineering faculty.
On 18 January "KPI" had honored guests – the descendants of Korolyov, USSR and Ukraine astronauts, Baikonur veterans, representatives of legislative and executive authorities of Ukraine, diplomatic corps of the National Space Agency of Ukraine (NSAU), scientific and educational community, representatives of Zhytomyr – scientist's native land, at Museum Square came together also students and university staff.
Welcoming visitors Rector of the "KPI" Academician Zgurovsky M.Z. said: "we should all be proud because exactly Ukrainian land has given life and future to this glorious person – genius designer, scientist, and space conqueror. At the "KPI" Sergiy Korolyov began his professional formation – he had wonderful teachers – mathematician Kravchuk M.P.(by the way, a monument to Academician Kravchuk located next to the monument to Korolyov S.P.), mechanic Suhomel G., radiophysic Ogievskiy V., flying instructor Kasyanenko I. and Bobrov V." Daily students pass scientist relief on the facade of the main building by, studying in lecture-hall named after Korolyov S.P., at the SPM opened exhibition dedicated space conqueror, now on the main avenue will be monument to son of land, who made the first steps in the universe - in this lyrical moment rector ended his speech.
Natalia Korolyova – scientist daughter, has the right to cut the ribbon and open the monument. To the melody of Ukrainian Anthem width falls slowly and opens familiar a humane and at the same time bronze-grand, human face, which opened a new page in history.
First Deputy Chief of the Verkhovna Rada of Ukraine Martyniuk A.I. in his speech shared the joy, that was adopted regulation on celebration the 100th anniversary of genius scientist – native of Ukraine, and the executive branch brought to life. "As it happens, - said Adam Ivanovich – scientist activities were learned after his death." Politician feels pride because world-famous scientist was born in Ukraine, studied at the excellent university, the festivity came together many team-mates and space pioneer students, among them Ukrainian astronauts.So there is a hope, that scientist's work will be continued and Ukraine will be cosmic in the full sense of the word. He is sure, Ukraine will launch spacecrafts, designed and manufactured in its territory.
Vice Prime Minister of Ukraine Tabachnyk D.V. in his speech thinking over that nuclear and space research has changed the civilization of the XX century. Ukraine has a lot to be proud of, he said, because its son achieved his dream of conquering the Universe, so the terms Korolyov and Ukraine are inseparable. He called again Ukrainian astronauts, who were present: Popovych P.R., Olexandr Zholobov, and Leonid Kadeniuk – all of them are Sergiy Korolyov' students.
Korolova N.S. expressed gratitude to NAS of Ukraine, the VR of Ukraine, and the administration of "KPI" for perpetuating the memory of her father and satisfaction that the monument was installed on campus, where he studied. With her came in Kyiv her three children – Sergiy Pavlovich children – and his five great-grandchildren. Natalia wished students and university staff health and success in all endeavors.
President of NAS of Ukraine Academician Boris Paton congratulated visitors and Natalia Sergiyivna's family on the anniversary of her father – a man who created the space. In his entire life he made so many that its hard to imagine how it was possible for one person. "If there weren't Korolyov, there wouldn't be so many things that we have today." For many years his name was confidential. Also, he used name "Konstyantin Sergeyev" to sign his articles in the press. Only experts had known that design manager – Korolyov S.P. and chief space theoretician – Keldysh M. are exist. Today scientist may say how deeply they respect and admire scientific achievement of Sergiy Korolyov. "Let's bow to this man, reverence properly, aspire to be a little similar to him" that's how ended his speech Ukrainian Patriarch of Science.
General Director of National Space Agency of Ukraine Aleksyeyev Y.S. noted that the monument unveiling to "missileman" is a significant event, because there are a few such awards in the world (and this branch of study is young). Memory is short, but thousands of students passing the bronze figure will be remember works of scientist who united Ukraine, Russia and Kazakhstan. "He created not only a manned space craft, for his participation was created USSR' nuclear shield, that's why we live and work in a peaceful environment now." Director is sure that with a sufficient funding Ukraine is able to create and run their own spacecrafts.
Education Minister Nikolaenko S.M remembered how they with his peers with bated breath listened to the first reports about satellites' and spacecrafts' flights in USSR in the late 50's – early 60's. The world watched with envy the technical and technological breakthrough. "His developments, - said the Minister – would be enough for several Nobel Prizes." A half century ago scientist had saw the prospect, and will win the country which will invest in the prospect. "So everyone should think about the prospect, to cooperate with neighboring states, the experience of predecessors allows to make the right conclusions. Both student and teachers have one more confirmation that they made tight choice when they came to the KPI."
"About Korolyov we can talk a lot and a long" – began his speech Russian Ambassador in Ukraine Chornomyrdin V.S. Korolyov is not only a great designer and a talented organizer, he had tremendous will-power, and thus he created the first satellites, giant defense systems and cosmonautics. Americans professed that the Russians won in the space, because they had Korolyov. The Ambassador thanked for preserving and perpetuating the memory of the scientist in the KPI. "The name of Sergiy Korolyov forever inscribed in the history of mankind, and Sergei Pavlovich wrote it himself with dignity" – were thinking politician. For his achievements monument should be cast in gold. "Small Korolyovs can be proud of their grandfather, he is their example. We'll hear about the Korolyovs" – ended his speech Ambassador.
Astronaut pilot of USSR №3, twice Hero of the Soviet Union, Major-General Pavlo Romanovich Popovich, in his speech said that Sergyi Pavlovich was not only a strict leader, he was kind and attentive to subordinates, worried and strongly helped his colleagues. Frankly followed every astronaut, but mostly he couldn't be able on the celebration of their successful return. "Grandkids can be proud of him. Remember everything you have heard and seen". He wished students and young astronauts rosy future.
At the end if the festivities Rector Academician Zgurovsky M.Z. thanked the author of the monument Honored Artist of Ukraine Oliynyk M.O. and has noted that every present as never tried to come closer to the speakers and to the monument, " to be closer to this great man."