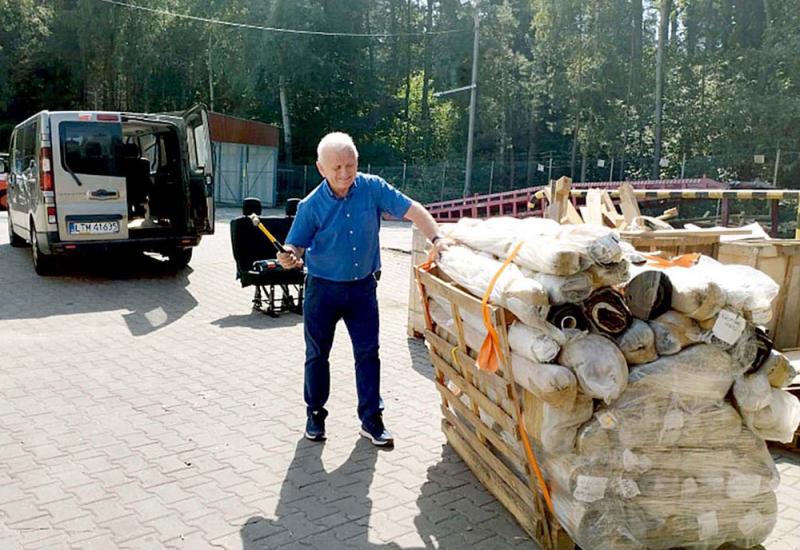 Interview with a KPI graduate who lives in Poland and helps Ukraine
- Another shipment of camouflage nets has been sent to Ukraine. How many is this one?
- This is the third transportation of nets, this time 400 m2, and in total there were 3335 m2. In addition, over the past year and a half, I have sent five shipments of camouflage fabrics to Ukraine, totaling 7,620 linear meters.
- How did it all start?
- I am constantly on the phone with my institute friend Elena. It was she who asked me in March last year to help her buy materials to make camouflage nets for the Ukrainian army. As she told me at the time, a group of eight of her friends, who had united in Kyiv to form a volunteer unit called the Magic Swallows, were having huge problems purchasing fabric for the camouflage nets they were making. I could not refuse to help, although at the time I did not know whether I would be able to organize such assistance. But everything worked out. My friend Olena has estimated my help so far, at Kyiv prices, at $30,000.
- So this activity requires money. Where does it come from?
- In Lyubov Krulevska, where I live, a reception center for refugees from Ukraine was opened, where I actively worked as a translator. At the same time, I was posting photos on Facebook every day, which aroused great interest both in Poland and abroad. Impressed by these photos, two former residents of our city, one of whom now lives in the United States and the other in Canada, organized charity events at home. They raised 7 thousand US dollars and 29 thousand Canadian dollars. It was with some of this money that I organized my first purchases. Then I started looking for sponsors among local entrepreneurs, and I've been working like that ever since.
- It's a lot of work. How many people help you?
- It's not easy. Many of my friends have already helped refugees from Ukraine in one form or another by taking them into their homes. But thanks to the fact that everyone knows me here, I still manage to find such help. Otherwise, it would be much more difficult. I have several volunteers from the Czajnia Association alongside me, and I can always count on their help.
- Where do the nets come from?
- I buy both camouflage fabrics and nets directly from manufacturers. Thanks to personal relationships, I buy at very favorable prices - for example, four times cheaper than in Kyiv.
- But from the Lublin region, although it is close to the border, these nets have to be delivered somehow to those who need them. How does this happen?
- I take these nets and fabrics to Rava Ruska, from where I send them directly to Kyiv to the Charity Swallows by Nova Poshta or Deliveri Group cargo mail. From there, the finished nets are picked up by the commanders of the units fighting on the southern front. For larger deliveries, I use a bus from the Czajnia Association, and for smaller shipments I drive my car.
- Where does this great dedication to helping soldiers at war come from?
- I could not stand aside when the conflict in Donbas escalated into a full-scale war. After all, I graduated from the Kyiv Polytechnic Institute. It was at a time when the Polish state sent the best high school graduates to study in the former Soviet Union. I have many colleagues and friends from my studies living in Kyiv. After February 24, 2022, they repeatedly told me on the phone what was happening to them. Those who lived north of Kyiv, for example, in Makariv, Irpin, and Bucha, had their houses damaged or destroyed. I learned from Kyiv Polytechnic that more than 50 young scientists and students had already been killed at the front, although two years ago there were 14 dead. I invited my friends. One of them came from Makariv. I believe that those who stayed behind help others. I chose my own way to help the soldiers who are fighting for the independence of their country. And like many of my like-minded people, I will continue this activity.