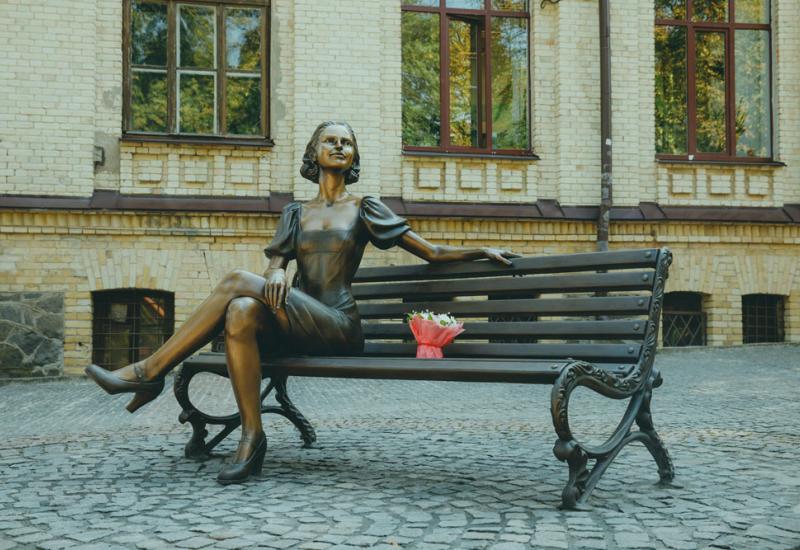 ...A young girl is sitting on a bench. The pile of textbooks next to her indicates that she is a student. She is waiting for something or someone, she radiates the joy of fullness of life and glows with a premonition of happiness. This is the sculpture "Youth" in a miniature park around the corner of the first building of the university, at the beginning of the alley leading to the Center for Culture and Arts. It was created by artists Volodymyr and Oleksandr Mykytenko.
"Why was the sculpture installed here? Because this is the path that thousands of students, teachers and staff of our university travel every day. And this symbol of beauty and youth will meet each of them and give them joy," explained KPI Rector, academician of the National Academy of Sciences of Ukraine and author of the composition Mykhailo Zgurovsky to the participants of the opening ceremony.
Anatoliy Novyk, a KPI graduate of 1975, entrepreneur, politician and public figure, People's Deputy of Ukraine of the III convocation, founder of the Research and Production Company "Ecopharm", financed the production of the artwork. According to Mykhailo Zgurovsky, he has been helping the university for many years. For example, at the beginning of Ukrainian independence, Anatoliy Novyk presented Igor Sikorsky Kyiv Polytechnic Institute with a unique computer class for integrated computer-aided design of mechanical engineering products, where a generation of engineers, scientists, and teachers was raised.
"There is one thing that unites all of us here. It is not age, not positions, not lifestyle. It's our alma mater, which raised us, released us into the world, gave us knowledge and qualifications," Anatolii Novyk said about what prompted him to become a patron of this project, "And this composition is a symbol of our student youth, our dreams and plans, the beginning of our lives.
Interestingly, the question of why a girl was chosen as the symbol of youth in a university that has long been considered predominantly "male" (although, we note, this is not entirely true) caught one of the authors of the composition, sculptor Volodymyr Mykytenko, somewhat by surprise. "As for me, youth, youth is, after all, a female image," he said, "And when we started developing the sketches, we did not think that this youthful reverie should be personified by a man... We wanted to do it this way, and we discussed it with the university staff at the stage of sketches, so that people passing by this sculpture would want to sit down next to it for a minute. The authors have succeeded in this to the fullest extent. And it seems that this bench will soon become one of the most popular places in the KPI among fans of selfies and interesting memorable photos.
The composition " Yunist " is dedicated to modern Ukrainian students and youth.

The sculptors worked on it for six months. It was installed between the main and seventh university buildings.