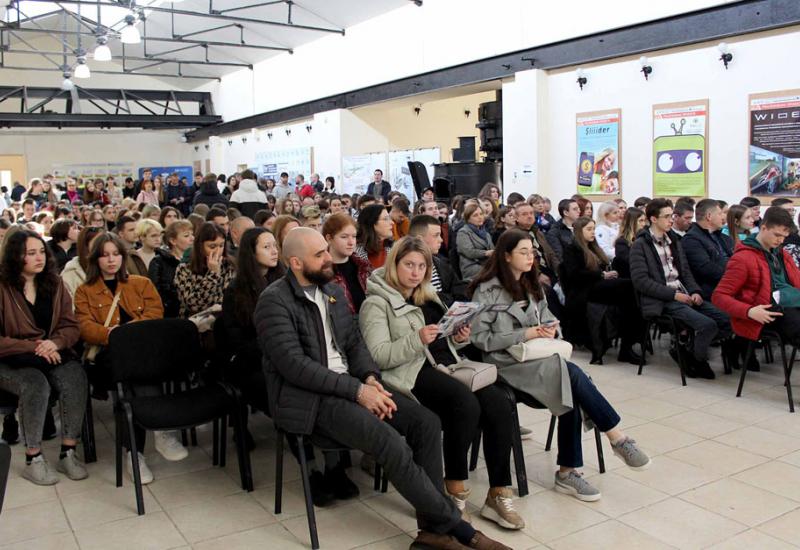 This year's first KPIabitFest, the university-wide Open Day of Igor Sikorsky Kyiv Polytechnic Institute, took place on April 8. This time it was held in a mixed format (in person and online). The hall of the Center for Innovative Entrepreneurship, where KPIabitFest was held in person, was overcrowded. More than 250 people gathered there, including registered future applicants, schoolchildren and their parents. There were also guests, representatives of faculties/research institutes, and student volunteers. KPIabitFest was broadcast on YouTube and the telegram channel for applicants. The recordings can be viewed now.
Even before the scheduled speeches of the speakers, everyone could get acquainted with the stands of the faculties and educational and research institutes of the university, where representatives of the faculties and institutes of KPI provided the audience with information about specialties and educational programs and answered questions.
Natalia Seminska, Vice-Rector for Academic Affairs, made an opening speech to the future applicants and their parents. She noted the great interest of the guests in KPIabitFest and emphasized that from now on, the Open Days will be held more often.
The first speaker of this year's KPIabitFest was Dmytro Balashov, a leading specialist of the Career Guidance Department - Career Development Center of the State Research Institute of Information Technology. He made a presentation of the new website for applicants and schoolchildren prof.kpi.ua. Olga Musienko, Assistant Professor of the Department of Dynamics and Strength of Machines and Resistance of Materials at the School of MMI, spoke about the role of an engineer in modern medicine. Yevhen Kovalenko, Associate Professor of the Department of EPS FEL, spoke about nanosatellites being created at Igor Sikorsky Kyiv Polytechnic Institute. Valerii Mozharovskyi, Deputy Chairman of the University Admissions Committee, concluded the speeches at the Open Day by telling about the peculiarities of this year's admission campaign and its rules updated by the Ministry of Education and Science of Ukraine. He also answered the visitors' questions in detail and highlighted some of the issues that may arise during the admission process. In the end, Natalia Seminska invited everyone to get acquainted with the university campus and to take part in excursions conducted by university students and members of the KPI Guide Club.