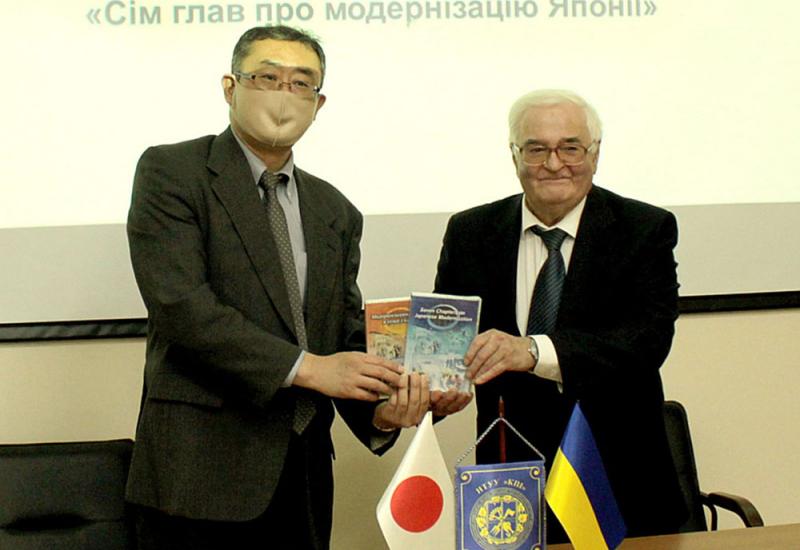 On May 14, Head of the Ukrainian Office of the Japan International Cooperation Agency (JICA) Satoshi Sugimoto visited Igor Sikorsky Kyiv Polytechnic Institute. He officially donated DVDs with an English-language lecture series program titled Seven Chapters on Japanese Modernization to the University. The Program will become part of the lecture series "Current challenges of Asian communities" taught at the Faculty of Sociology and Law.
The session of the Japanese guests of the JICA Office in Ukraine took place at the Ukraine-Japanese Center. Serhii Sydorenko pointed out that Igor Sikorsky Kyiv Polytechnic Institute had a long history of cooperation with JICA that started in the early 2000s with establishing the Ukraine-Japan Center at Igor Sikorsky Kyiv Polytechnic Institute. "And today the JICA Office in Ukraine is taking a new step to deepen the knowledge of our students and visitors of the Ukrainian-Japanese Center and present us DVDs with the educational program Seven Chapters on Japanese Modernization," he said.
After the ceremony, Satoshi Sugimoto had an interview with the University media. He highlighted that the DVD content served as learning material on the modern history and experience of Japan. He also said that Japan was the first non-Western country and still was one of the very few countries that had developed without losing much of its tradition and identity. According to Satoshi Sugimoto, lectures offer the audience a chance to learn in detail about the processes that occurred in Japan on the way to modernization and development. We want to share our experience, so we present these lectures around the world."
In turn, Head of the Department of Sociology Pavlo Kutuiev explained that many lectures of the Department mention and use examples of the Japanese modernization experience. Therefore, the materials will be of great help for studying the Land of the Rising Sun.
During the visit, the guests also visited the State Polytechnic Museum and the Alley of Outstanding Scientists, whose lives and scientific studies were associated with the Igor Sikorsky Kyiv Polytechnic Institute.