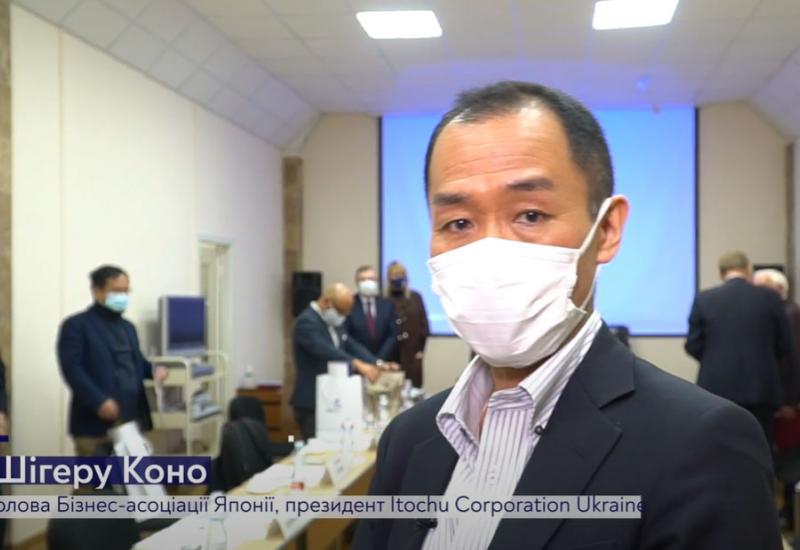 The first step towards establishing cooperation was a visit of representatives of enterprises to the University. The meeting with members of the Association took place on January 27.
The Association unites more than 20 innovative Japanese companies that have offices in our country.
'Expanded cooperation with large Japanese companies is one of the priorities of activities of Igor Sikorsky Kyiv Polytechnic Institute,' said Rector Mykhailo Zgurovsky. 'Moreover, our University could become a good communicator between Ukraine and Japan in the field of R&D. Research and development would complement the traditional business contacts between our two countries.'
Igor Sikorsky Kyiv Polytechnic Institute leaders presented to the guests the innovative ecosystem Sikorsky Challenge and a film about the University's achievements in the space industry.
The annual festival of innovative projects Sikorsky Challenge attracted much attention from Japanese business representatives.
Just in the middle of the conversation, Koji Terajima, Director of Panasonic Ukraine, expressed a desire to take part in the next festival.
The meeting of Japanese business representatives with the University administration took place at the Ukraine-Japan Center. The center works at the G. I. Denysenko Scientific and Technical Library of the National Technical University of Ukraine «Igor Sikorsky Kyiv Polytechnic Institute». Among the participants of the meeting was Satoshi Sugimoto, who is the newly appointed Head of the Ukrainian office of the Japan International Cooperation Agency (JICA). In 2006 the agency allocated funds to support the Ukraine-Japan Center at the University. The Ukraine-Japan Center became a base for promoting social, economic, and cultural exchange between Ukraine and Japan. No special attention has been paid to Japan cooperating with Ukraine in science, technology, and innovation. Now the areas of cooperation will expand.
'We have heard about many industries in which the University operates. Of course, there may be different forms of cooperation in different areas. As a preliminary view, we are interested in the economic and social projects,' said Mr. Satoshi Sugimoto after the official part of the meeting. 'We would also like to cooperate in the field of technology because Igor Sikorsky Kyiv Polytechnic Institute has the best conditions for development.'