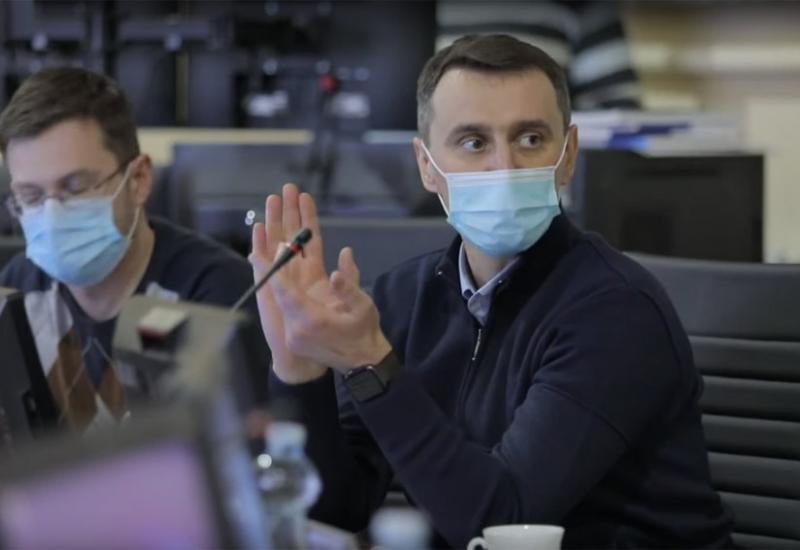 The Chief Sanitary Doctor of Ukraine Viktor Lyashko came to Igor Sikorsky Kyiv Polytechnic Institute to get acquainted with the work of the Situation Centre and plan further cooperation. Together with Lyashko, act. Director of the Center for Public Health of the Ministry of Health of Ukraine Ihor Kuzin and Natalia Vynnyk, Scientific Secretary of the Gromashevsky Institute of Epidemiology and Infectious Diseases of the National Academy of Medical Sciences of Ukraine visited the Centre.
The situation centre, which deals with data management, development of mathematical models and information systems, can be useful to the Ministry of Health in several ways. First, in modelling health policy decisions (including quarantine). Secondly, the centre's resources will be useful in the formation of anti-crisis communication (artificial intelligence can collect and analyze information about the attitude of society, for example, to vaccination, which will help the ministry to adjust its policy).
"Work on coronavirus disease has shown how much we do not involve valuable resources that are in our country. It is indeed a much-needed tool for the state, and it has already proven its effectiveness in reacting to coronavirus disease. Today we got acquainted with its work in more detail, and the Ministry of Health will offer our university its model of cooperation. We will receive support at the level, including financial. We need this technology tomorrow" says Viktor Lyashko.
The Chief Sanitary Officer is also convinced that the data can be applied not only to infectious diseases, but also to model and evaluate certain solutions to other less popular but important health issues, such as reducing salt intake and avoiding trans fats to prolong active use. healthy life of the population.
The centre's resources are also planned to be used in the development of the public health information fund, which will be created this year. The fund will contain all the information about the state of health of the population, the state of the environment, etc. These systems can be used by both society and doctors in their practice.
"In my opinion, such a fund should use the mechanisms of artificial intelligence, mathematical forecasting, modelling. Combining Igor Sikorsky Kyiv Polytechnic Institute resources with a government order to create a fund is the most important thing to create in the public health system as a whole. This is not a new practice in the scientific sphere, but the possibilities of practical application are not widespread yet, "comments Ihor Kuzin.
Currently, the Igor Sikorsky Kyiv Polytechnic Institute administration is waiting for a concrete action plan from the Ministry of Health, based on the ministry's most urgent requests. The next steps in cooperation are planned to be implemented in the near future.