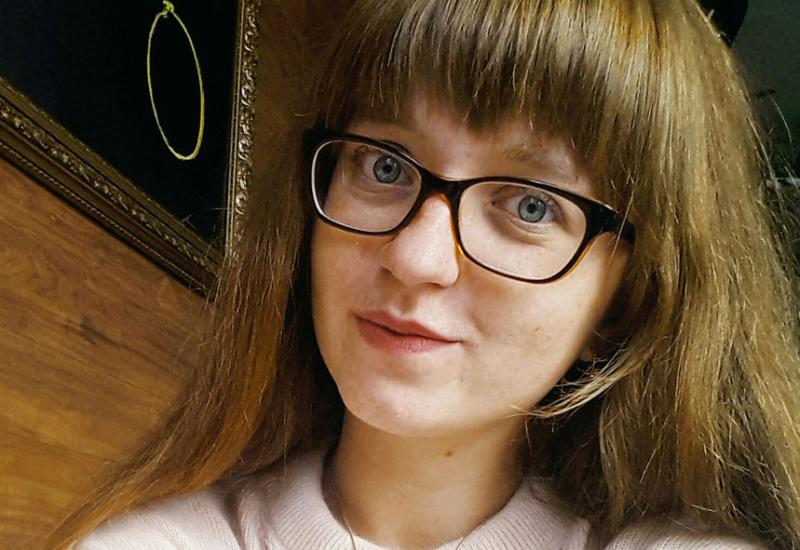 Igor Sikorsky Kyiv Polytechnic Institute has always been notable for the variety of tastes of its students. The stars are not only students of the university, but also applicants who are winners of school competitions, students of MAS. Meet Sofia Ohievich, freshman of FSN (Department of Administrative and Commercial Law). She is a graduate of the Rivne Regional Scientific Lyceum, became a fellow of the President of Ukraine scholarship as a winner of the  International Taras Shevchenko Literary Competition for Students and Young People. More than 900  students took part in the final of the contest. The scholarship holders were 39 of them.
At the request of the editorial office, Sofia shared a story about herself.
Life is really too complicated. You think tomorrow will be easier, better, but it will not. Your life doesn't depend on the name of the month or the day of the week or the hour. It depends on you. The problems will never go away. If you want to be happy, be happy right now. If it doesn't work out, you don't want much enough.
Five months of my studies at Igor Sikorsky Kyiv Polytechnic Institute  have passed, five months of my life, and I never asked myself if I was sorry or happy. Choosing Igor Sikorsky Kyiv Polytechnic Institute was my hardest choice, which I still can't explain. I always envied people who knew what they wanted, what they would become in the future. I was very afraid to make a mistake because I never felt attached to just one activity, I was always keen on everything, and I knew that I could get used to any of my choices, I could do whatever I chose. I took that step, and now I'm here, I'm a future lawyer.
Seven years of my life, starting from the fourth grade, I studied Ukrainian. I took part in all language contests such as Peter Jacyk Competition, Taras Shevchenko Competition, and so on. Step by step, I went forward from the prize-winning places at the local level to the first place at the All-Ukrainian level. Sometimes I wanted to quit everything, I had no strength to keep going, it was painful to stop so close to something significant when I lacked a point or 0.25 points and you have to go back and start all over again. So gradually you learn patience, determination, stamina. You don't just go ahead because you like to do it, but you set the standard, your own finish, and you know that when you come first, you will be the best.  It's like an instinct that you develop on your own and then blindly follow it, you can't stop anymore. For what? For a moment when time stops, when everything is behind you, when you are filled with happiness in its purest form as it is. And only then you do understand why...
I wouldn't have been able to bear with these moments if there weren't the people I love, who were always there for me, if it weren't for my mother, who helped me in everything and who helps me so far. I didn't want to let them down, I wanted them to be proud of me. Even my completely unreasonable choice they accepted and supported.
I entered the university on a scholarship basis, the philology department. As if it happened the way it should have been, but now I am a law student and not at Lesya Ukrainka University of Lutsk, but at Igor Sikorsky Kyiv Polytechnic Institute. This choice I made on the last day of applying on a scholarship basis, and this choice has changed my whole life. Now I understand that there was neither right nor wrong choice, it was just a choice. A choice that I am still satisfied with. I have close friends, favorite subjects, unsurpassed teachers, who certainly teach their subjects at a high level and try to make the learning process as interesting and progressive as possible. Igor Sikorsky Kyiv Polytechnic Institute has become my second home, along with its tangled streets, where life never stops, with majestic old buildings, a park and the smell of coffee every morning. I fell in love with life, and I feel happy now...