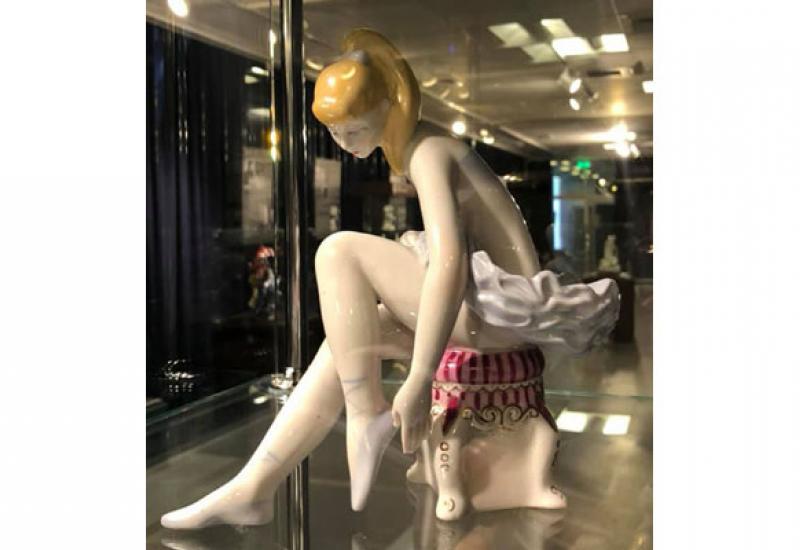 The exhibition of unique Ukrainian porcelain art property has been held in Kyiv`s museum of history. Goods from Kyiv`s experimental ceramics factory were presented for all visitors, this factory was the main laboratory of porcelain`s industry in Ukraine that produced unique consumer, exhibitions and gift goods. We can compare it`s quality and skills that were used for these goods with Lomonosow`s porcelain factory. There were 15 factories of porcelain in Ukraine, but now this material is only in associates` hands.
Works that were provided by collectors are not just admirable, but even very interesting. There are sculptures and vases made by the leading artists of the factory – O. Sorokin, V. Scherbuna, O. Shnukryp, O, Rapai, H. Moldavan and others. This factory was the first one to invite famous artists from the village Petrykivka, and developed petrykivka`s murals, that today are intangible cultural Ukrainians property and are listed in UNESCO. Among sculptures there are other goods from 3-5 centimeters to more than 50 centimeters that can attract your attention. The main characters of O. Rapai and O. Shnukryp`s works are women – fashionistas, careful mums, athletes and women in traditional Ukrainian suits. The figures are like alive and very fragile. Their grace, femininity and elegance is the main exhibition`s leit-motif.
Characters` figures of the first Ukrainian opera ''Cossacks beyond Danube'' – cossack Taras and his wife Odarka (1956), were letting out more than 50 years. General edition was over 1 million "Soloha and gratitude" for Gogol`s motives, was remade twice – by O. Rapai(1959) and O. Shnukyp(1979). Soloha had L. Hityaewa`s features, the performer of this role in film. "A girl with a mirror" was not in market, because of it`s irrelevance and disharmony. Was it so?
Lace packs were tried to be made for ballerinas. The result was not successful, but foreigners bought out the rights for selling it. In 2015 wooden copies of painted ballerina "Lyenochka"( the model of O. Shnukyp 1971) were sold on famous auctions for thousands of dollars. The author of copies – American artist, who installed a 12 meter inflatable copy of "Sitting ballerina" in 2017. But all doubts in plagiarism were unjustified, because in 1990th D. Kyns get a legal permission for crumbled figures from heirs.
This and many other wares have entered the native history, but, unfortunately, are forgotten.