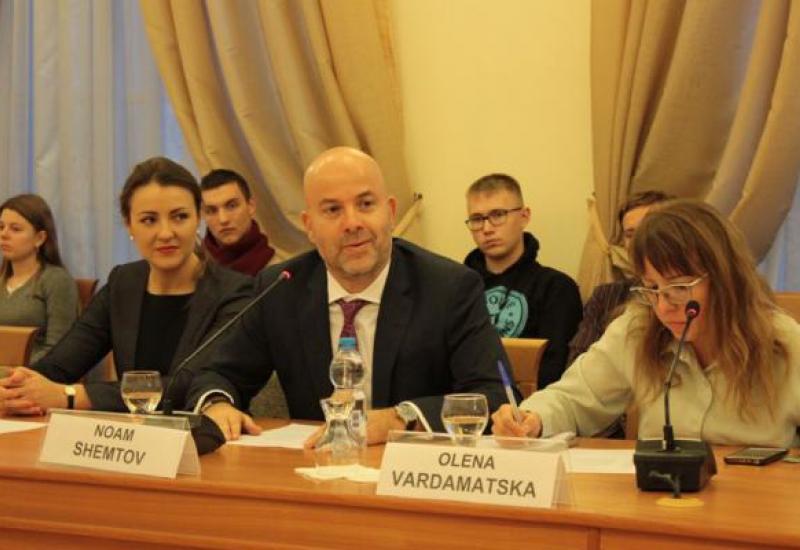 Noam Shemtov, co-chair of the project «Specialized Court on Intellectual Property in Ukraine», delivered a lecture-presentation on «Intellectual Property Law and Artificial Intelligence Technology: Conflict or Combination» to students, postgraduates and staff members of Igor Sikorsky Kyiv Polytechnic Institute on November 1.
Kyiv is already the third city in which the famous English lawyer this week has given his lectures for Ukrainian scientists, first he visited Kharkiv and Lviv.
The lecture-presentation was devoted to the problems that arise in connection with the rapid development of artificial intelligence technologies, and should be resolved in the system for the protection of intellectual property rights.
Noam Shemtov told how intellectual property law is applied in the legal regulation of the activities of scientists and developers of new technologies and modern innovative production in some countries. He also shared with the audience his thoughts on the extent to which the existing legal regime can regulate such processes. Enhancing the standards for protecting the rights and interests of individuals for the results of their intellectual activity is one of the main tasks that lawyers and legislators of different countries are facing now. Moreover, according to some lawyers, not only for the products of their own artistic or scientific-technical activities, but also for those that they create using artificial intelligence technologies.
It is about how it should be done, and if we talk about products created by «electronic personalities» (this term was introduced by the European Parliament in the draft resolution on the legal status of robots), it is necessary to protect their «intellectual property», that discussions are ongoing among many lawyers of developed countries.
Therefore, Noam Shemtov divided his lecture into two main parts: the first dealt with copyright rights (i.e., that sub-sector of the civil law institution that regulates legal relationships related to the creation and use of works of art, literature and science) and patent law (sub-sectors of civil law which regulate relationships associated with the creation and use of intellectual property protected by a patent – most often these are inventions, utility models, etc.). His main conclusion was: even with the very active use of the capabilities of artificial intelligence in creating either works of art, or some innovative developments by the authors, the primary things still are the individual and his intelligence. The truth is, he believes that some terms in the copyright law system should be specified in the part of governing related rights, but as for the patent law system, according to Noam Shemtov, it is quite developed and with the current development of artificial intelligence technologies it has enough instruments for features of their application to be taken into account.
In a meeting with Kyiv polytechnicians also took part a representative of Queen Mary University (Great Britain, London), where Noam Shemtov works, Olga Gurgulia, project research coordinator and Olena Vardamatska, project coordinator in Ukraine.
Reference: Noam Shemtov is a well-known lawyer who conducted research in the EU on legal aspects related to artificial intelligence technology. He teaches intellectual property law and information technology at one of the most prestigious and largest research universities in the UK – Queen Mary University, as well as in the universities of Spain and the Netherlands. In addition, he is a Deputy Head of Queen Mary University's Commercial Law Studies Center. Noam Shemtov works on research in the field of IP law, computer technology and deals with artificial intelligence. He led the work of the UK Research Center and other organizations, including CreativeWorks London, CISAC, Microsoft, WIPO, EPO, Foreign and Commonwealth Office of Great Britain and the Ministry of International Development of Great Britain. As a lawyer, Noam Shemtov works in Israel and the UK.