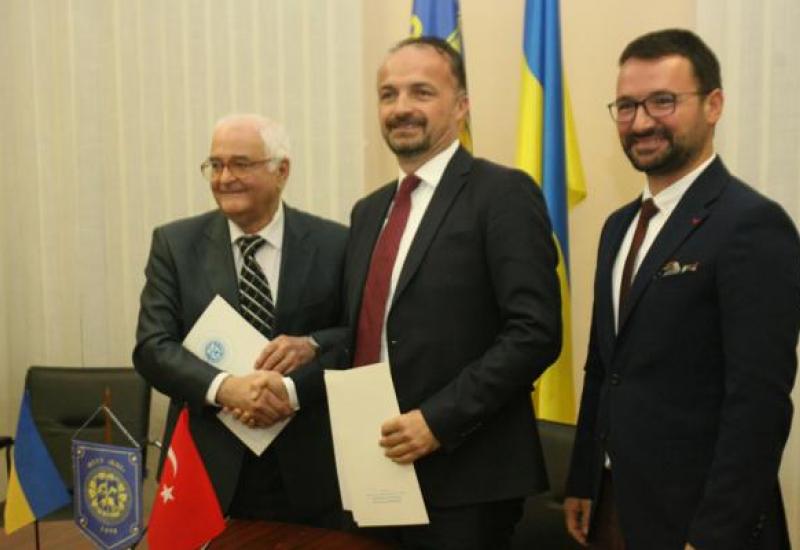 Memorandum about mutual understanding with Kütahya Dumlupınar University (Republic of Turkey) was signed on 28, October in Igor Sikorsky Kyiv Politechnic Institute.
The paper determines the general concepts of cooperation development between Igor Sikorsky Kyiv Politechnic Institute and Kütahya Dumlupınar University. There were determined general aspects of Ukrainian and Turkish universities cooperation both in educational field and in common researches organisation. Universities will cooperate to widen teachers' , staff members' and students' mobility within the International credit mobility Erasmus+ in research projects; establish short-run academic exchange programmes; encourage both universities researchers, using "MELVANA" programme opportunities, etc.
Vice-rector Hasan Hockmez, responsible for international cooperation and international relations management supervisor Oktey Sabaz took part from Kütahya Dumlupınar University side; Vice-rector, responsible for international relations , Corresponding Member of National Academy of Sciences of Ukraine Serhiy Sydorenko, Faculty of Linguistics dean's patron Olha Demydenko and others from Igor Sikorsky Kyiv Politechnic Institute side.
Memorandum signing outpaced its consepts discussion. Turkish representatives even presented own plan of cooperation development between Igor Sikorsky Kyiv Politechnic Institute and Kütahya Dumlupınar University. There was proposed to establish the partnership due to K2 (strategic partnership) and K3 (programmes of support of higher education reformation policy) of Erasmus+ programme. Also there was proposed to establish short-run (up to 15 days) common academic programmes with online access, as well as provide an opportunity of common access of university labs for its researchers. Also, beginning the cooperation due to academic mobility programmes , using the potential of Turkish higher education academic mobility programmes "MELVANA" , established by the Council, was proposed. And, finally, there was offered to start implementation of double diplomas programmes of some specialisations. One more proposal on the list and , according to Serhiy Sydorenko's words one of the most important, is to create a common Ukrainian and Turkish university centre with help of Turkish agency of cooperation and coordination Turkish Cooperation and Coordination Agency.
So, for implementation of memorandum concepts and proposals, which were expressed during its discussion, meeting participants arranged to prepare documents projects , where both sides' intentions would be mentioned, and include them in the full-fledged agreement about cooperation with determining its certain directions and forms after consulting.
On the picture: Serhiy Sydorenko, Hasan Hockmez and Oktey Sabaz after memorandum signing.