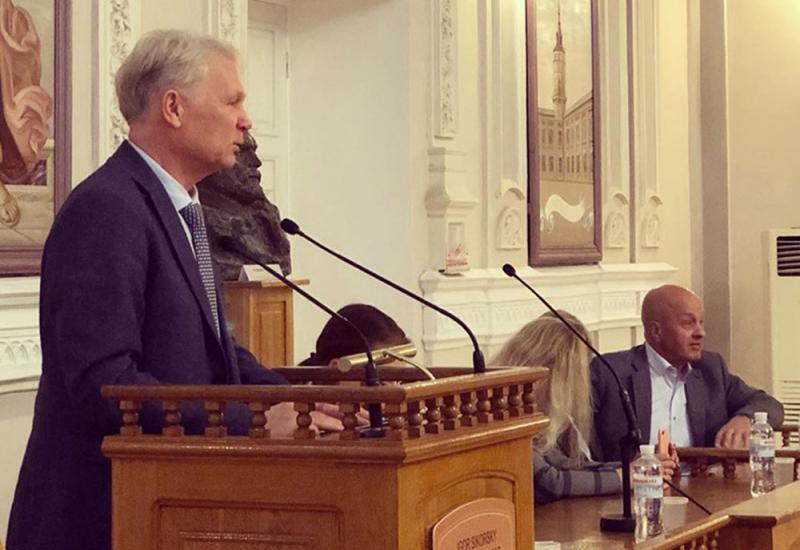 On the October, 25 in the meeting room of the Academic Council Igor Sikorsky Kyiv Politechnic Institute hosted the VII International Scientific and Practical Conference "Roman Ivanchenko Scientific School". It was dedicated to the 90th anniversary of the birth of a prominent scientist whose ideas and work were the basis for teaching publishing and editing in higher education institutions of modern Ukraine.
Director of the Publishing and Printing Institute of Igor Sikorsky Kyiv Politechnic Institute Petro Kyrychok opened the conference. He described the high professionalism and teaching skills of Roman Hryhorovych and expressed the hope that the students who came to the conference would learn more about the outstanding scientist and have a clear example of how to work on creating the future of their own state.
 This year among the participants of the event were scientists, academic institutions and institutes of science of Ukraine, Belarus and Poland from: Potebnya Institute of Linguistics of the NAS of Ukraine, Kyiv Taras Shevchenko National University, Classic Private University (Zaporizhzhya), Kyiv Medical University, Ivan Franko Zhytomyr State University, Ukrainian Academy of Printing (Lviv), A.Makarenko Kyiv Professional Teaching and Teaching, Lodz University (Poland), Mogilev Institute of the Ministry of Internal Affairs (Belarus) and, of course, Igor Sikorsky Kyiv Polytechnic Institute.
Professor Vladimir Rizun, Director of the Institute of Journalism at Kyiv Taras Shevchenko National University, performed in front of the participants of the conference. He mentioned the literary, journalistic and scientific activities of Roman Ivanchenko and noted his special role in forming a new scientific direction - literary editing.
Ukrainian publisher, teacher, journalist, doctor of social communications Vasyl Teremko devoted his speech at the plenary session of the conference to creative aspects in the work of the editor. He placed particular emphasis on the book's representative elements and focused on the technologies for producing effective texts and stressed that today the editor must possess copywriting technologies.
Professor Hanna Onkovych spoke about the development of high school media didactics and the Ukrainian experience of training specialists for mass media, media educators and media psychologists. She also stressed the need to introduce media education elements into the curriculum and to promote the practice of integrating media education elements.
The special guest of the conference was Galina Ivanchenko - Roman Ivanchenko's wife. Her performance was especially warm. She recalled interesting facts about her husband's life, told about the difficult fate of the Sixties whom he belonged to, the persecution and harassment of Ukrainian writers, scholars who defended the right to their own thought and creativity in their mother tongue.
 Department of Publishing and Editing VPI Igor Sikorsky Kyiv Politechnic Institute and the organising committee of the International Scientific and Practical Conference "Roman Ivanchenko Scientific School" express their gratitude to all participants and guests of the conference, the active student youth who assisted in organizing the event, and looks forward to a new scientific meeting in October next year.