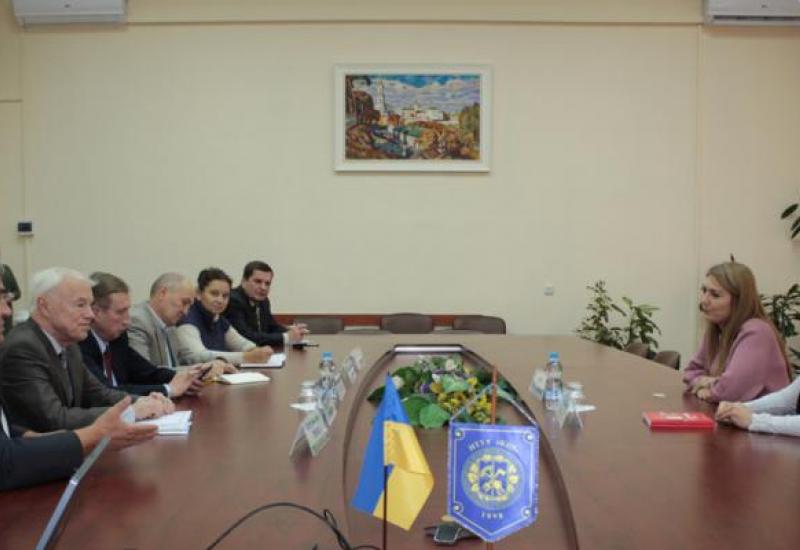 Conversation about wide cooperation beginning between Igor Sikorsky Kyiv Politechnic Institute and the largest mining and metallurgical "Metinvest" company took place on 25, September during meeting of authorities with executive director assistant Ukrainian Metallurgist Federation Olena Kolesnikova and Management Director of Education and Personnel Development Department Larisa Polishchyk.
Among meeting participants are: Igor Sikorsky Kyiv Politechnic Institute rector NASU academician Mykhailo Zhyrovsky, first vice-rector NASU academician Yuriy Yakymenko, vice-rector of education activity Vitaliy Pasichnyk, vice-rector of education activity Valeria Holyavko, Faculty of Physical Engineering dean corr.-member NASU Petro Loboda, "Post-graduate education institute" principal and chain of start-up schools "Sikorsky Challenge" supervisor Inna Maslyukova and others.
Among main cooperation directions participants emphasize on: firstly, preparation of metallurgical field specialists from scratch, since the first year of study (or even earlier - when high school student chooses future profession) til graduation; secondly, repreparation company employees; and thirdly, collective scientific innovative activity and carrying out researches on company order by university scientists.
One of the main partners of "Metinvest" in cooperation development should be Igor Sikorsky Kyiv Politechnic Institute Faculty of Physical Engineering , which has interesting ideas and proposals to field representatives, and Petro Loboda has told about that. Promising form in providing engineer preparation for the industry is not only target training, but also dual learning, when student gains knowledge not only in audiences of their alma-mother, but also works in the industry where he or she may work after graduation. Such a form, as Yuriy Yakymenko has told, has already proven its effectiveness during bachelor preparation on other faculties and is interfering into university activity practice.
Olena Kolesnikova claims specialists preparation for new fields should be added, first of all those which navigate we'll both in own specific sphere and in IT-sphere and have good management skills.
Chain of start-up schools "Sikorsky Challenge" supervisor Inna Maslyukova told about experience and opportunities in Igor Sikorsky Kyiv Politechnic Institute in preparation of engineers capable not only of generating ideas, but also implement them in real life and commercialize. However, as rector has mentioned, companies representatives will be able to estimate that opportunity by themselves by visiting events of innovative projects festival "Sikorsky Challenge 2019" which will be held in the university from 8th to 10th of October.
Mykhailo Zhyrovsky mentioned: "We have already felt that we need each other, that's why the question will be how to organise our cooperation. All this we have to show in integrated agreement, where we'll set its certain directions and forms" .
So, meeting participants agreed about further steps in wide cooperation development and preparation of proper documents for solving certain organisational issues.
Additional info. "Metinvest" is an international vertically integrated mining metallurgical company group. To the Group structure relate: mining and metallurgical companies in Ukraine, Europe and the USA, as well as sell chain in all main world regions. "Metinvest Holding" is the leading company of "Metinvest Group". The company controls whole producing chain from ore and coal mining to semi-finished products and ready products producing. As its companies are close to main railway ways, it is possible to supply raw and metal products all over the world. Mining companies in Ukraine and the USA which produce iron ore raw and coking coal also relate to "Metinvest". Besides, the Group produces coking goods, cast iron, steel semi-finished products, flat and long products in own companies in Ukraine, Italy, Bulgaria and Great Britain. Its sales offices and service centers chain covers over 80 countries and provide more than 10 000 customers with high-quality products and service. To company membership relate: independent service and engineering companies with qualified specialists and modern technological base etc.