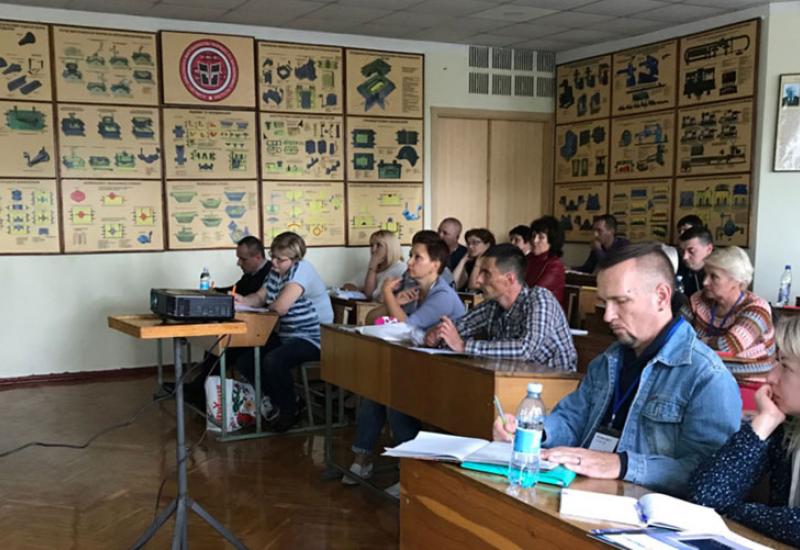 The seminar-workshop "The theory and practical use of the methods of X-ray diffraction" took place under the patronage of the world famous Japanese company Rigaku Corporation at the Faculty of Physical Engineering on the 18th of September 2019. Its organizers were Igor Sikorsky Kyiv Polytechnic Institute, Rigaku Corporation, E-Globaledge Corporation (EG) and private limited company "Spektran". The main purpose of the organization of the festival was to spread the information among the experts, which concerns the features of solving material science issues with the help of the devices of the firm of Rigaku; to establish the connections with enterprises, organization and providing them help by conducting common scientific researches in the sphere of material science; to establish partnerships with the organizations which are aimed at raising the level of scientific researches and improving the method of the study of the composition and the structure of materials.
69 representatives of 38 enterprises, organizations, universities and the institutes of the National Academy of Sciences of Ukraine participated in the work of the seminar.
The Dean of the Faculty of Physical Engineering and the Corresponding Member of the National Academy of Sciences of Ukraine Petro Loboda greeted the participants of the seminar.
The seminar was followed by the three main direction:
the practical use of the qualitative and quantitative methods of X-ray structural analysis;
the theory and technical support (the new method of the quantitative phase analysis of powder materials was taken into consideration and the new devices of Rigaku were represented);
the workshop and consultations (the participants had an opportunity to prepare independently and analyze their own specimens on the X-ray diffractometer Rigaku Ultima IV).
The CEO of Rigaku Cooperation Hideo Toraya, the Head of Department of Radiographic Researches and Quantum Chemistry of the scientific and technological complex "The Institute of Single Crystals" of the National Academy of Sciences of Ukraine of S. Shyshkin, the Leading Researcher of thev Fratsevych Institute of Material Science Problems of the National Academy of Sciences of Ukraine M. Karpets, the Sales Manager of Rigaku Corporation (Germany) O. Slipeniuk and others.
In addition, the participants of the seminar acquainted themselves with the scientific centers and public laboratories of the Faculty of Physical Engineering. And at the final roundtable, they discussed some of its outputs and got the answers to the number of their questions from the representatives of the company of Rigaku.