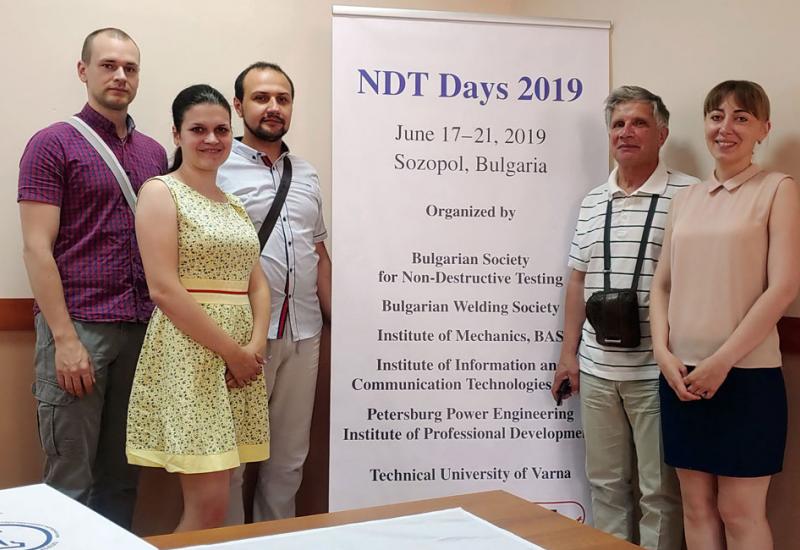 The international scientific and technical conference «The Days of Non-Destructive Control, 2019» (NTD days 2019) took place from the 17th till the 21st of June 2019 in the city of Sozopol (Bulgaria). Bulgarian National Scientific and Technical Association of Flaw Detection (BGSNTD), Institute of Mechanics of Bulgarian Academy of Sciences and Varna Technical University were the organizers of this conference.
More than 300 experts of more than 10 countries participated in this conference. There was a selection of articles among the materials that were handed out by the organizational committee in order to represent the conference. The representatives of Non-Destructive Testing Instruments and System Department (V. Bazhenov, Y. Kalenichenko, Y. Lysenko) and Instruments and Systems of Orientation and Navigation (S. Lakoza), D. Pivtorak, S. Tsybulnyk) had their poster oral lectures from the Faculty of Instrumentation Engineering of the National Technical University of Ukraine «Igor Sikorsky Kyiv Polytechnic Institute». There was also an exhibition of modern devices and systems of non-destructive control within the conference, in which the Bulgarian, Romanian and Ukrainian enterprises of industry took part.
The conference was traditionally opened by the President of Bulgarian Association of Non-Destructive Control (BGSNTD) and the Representatives of Organizing Institutes.
The conference NTDdays 2019 has already become a traditional meeting place for experts, scientists, post-graduates, and also for past-year graduating students, who are working in the sphere of non-destructive control and technical diagnostics in Bulgaria.
There was also a discussion during the conference, concerning many important questions of non-destructive control, and the participants had an opportunity to get new ideas for their projects, which encourage for creativity.
A big variety of concerts with a national dance and sightseeing in a wonderful ancient city was also scheduled by the organizers within the cultural program.