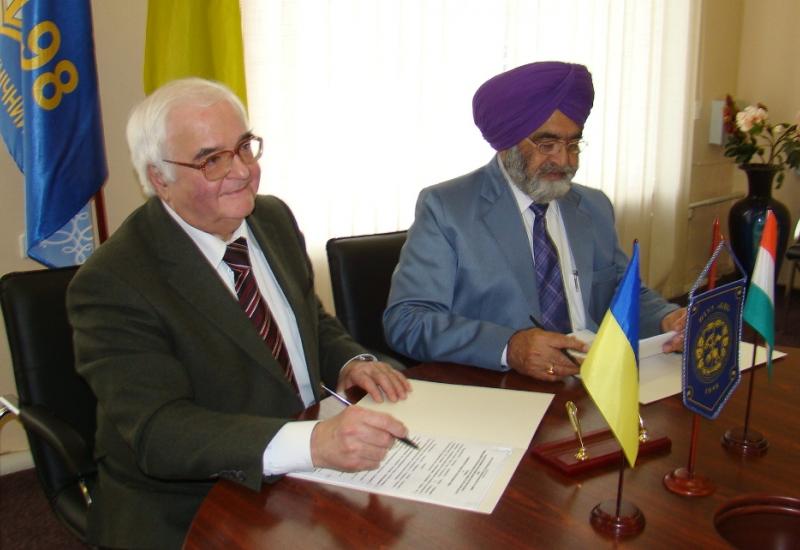 On April 11th Igor Sikorsky Kyiv Polytechnic Institute and Chandigarh University (Republic of India) signed partnership agreement.
On behalf the university the document was signed by Serhiy Sydorenko, provost of International Relations, corresponding member of National Academy of Sciences of Ukraine, on behalf the University of Chandigarh – its honorary vice-chancellor Dr. Rajinder Singh Bawa
The agreement was developed with the purpose of expanding scientific contacts and cooperation between higher educational establishments of Ukraine and Republic of India. The document provides that cooperation will be performed in the following areas: informing about educational programs, reforming academic activity, exchanging scientifically and scientifically-methodological literature, conducting scientific consultations, exchanging work experience, business trips for faculty members for the purpose of reading cycles of lectures, mutual invitation of teachers and researchers at conferences, seminars, scientific symposiums, work on joint educational and research projects in bilateral as well as in international programs, etc.
Before singing, there was a discussion of directions and cooperation mechanisms, which was attended by Dr. Rajan Sharma, deputy director of International Relations of the University of Chandigarh, Yevhen Polishchuk, deputy of vice-rector for international relations, etc. The familiarization tour of the Igor Sikorsky Kyiv Polytechnic Institute campus for was organized the guests, visiting the State Polytechnic Museum and its Department of History of Aviation and Astronautics. The meeting participants also exchanged presentations from their universities.