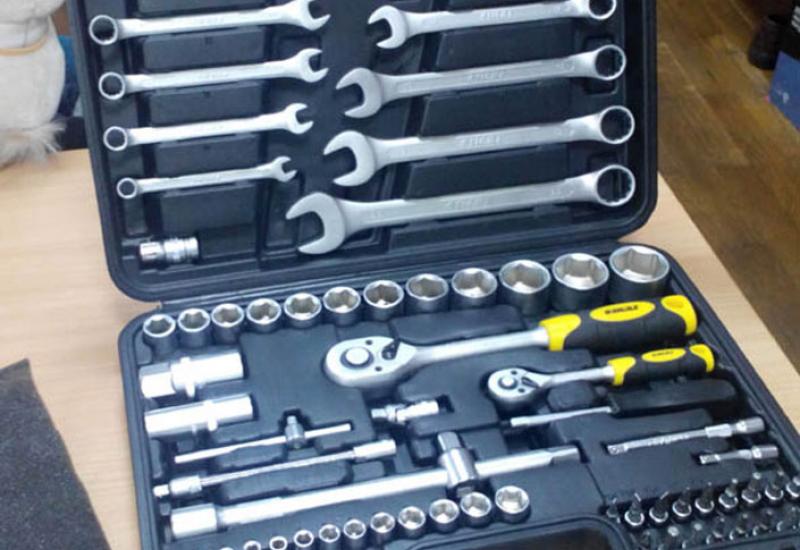 Kyiv Polytechnic Institute-volunteers continue to help our soldiers, which participating in the antiterrorist operation in the East of Ukraine. Latest news from the staff "Volunteer battalion KPI" says the Deputy Chairman of the staff on organizational issues, leading engineer of Academic complex "IASA" Elena Belyaeva.
– Our volunteer organization for the funds of the employees sent the military in the ATO zone several parcels: one of the crews – a set of tools to repair machines (picture), the other – car parts for scouts, another tactical night vision monocular. We provide the necessary assistance to participants of military operations in the opening campaign of 2017, and our students-veterans help to solve problems arising in the learning process.
In the summer we conducted a campaign to collect previously used items and household appliances for migrants from Krasnogorovka and Mariinka, in which during the hostilities houses or apartments were destroyed. These settlers now live compactly in a hostel in the city of Kurakhovo. In August, a thing was sent to them by a volunteer car, which drove to the military: We are very grateful to our employees, and especially to the employees of the Polytechnic industrial complex and their volunteer Natalia Murashova, who took the most active part in collecting this assistance.
According to the Procedure and the conditions for the provision of state targeted support to certain categories of citizens for higher education approved by the Decree of the Cabinet of Ministers of Ukraine of November 23, 2016, No. 975, students of combatants who have reached the age of 23 years have been deprived of free study since January 2017 , receive a social scholarship and pay for a hostel at a reduced rate. Therefore, after the reconnaissance of our students, soldiers volunteers KPI addressed the Committee on Science and Education of the Verkhovna Rada of Ukraine with a request to develop and submit to the Council a draft amendment to the Law of Ukraine "On Higher Education", providing for the provision of privileges for higher education to participants in combat operations, regardless of age. We also turned to TV journalists who depicted a plot about this with our frontier students. Our gratitude to Andriy Havryshkevich, the chairman of the KPI Students' Trade Union Committee, who sent an appeal on this issue to the Prime Minister and the Minister of Education and Science of Ukraine. Legislators are also informed about this injustice. Hopefully, it will be taken into account when drafting and approving the draft law 6298 dated 06.04.17. "On Amendments to certain Laws of Ukraine on State Support for Combat Action Participants and their Children for Obtaining Vocational and Higher Education." Unfortunately, so far, this bill has not been considered and, accordingly, not accepted, and therefore discrimination against those who defended their homeland at the front during their student years has not been eliminated.