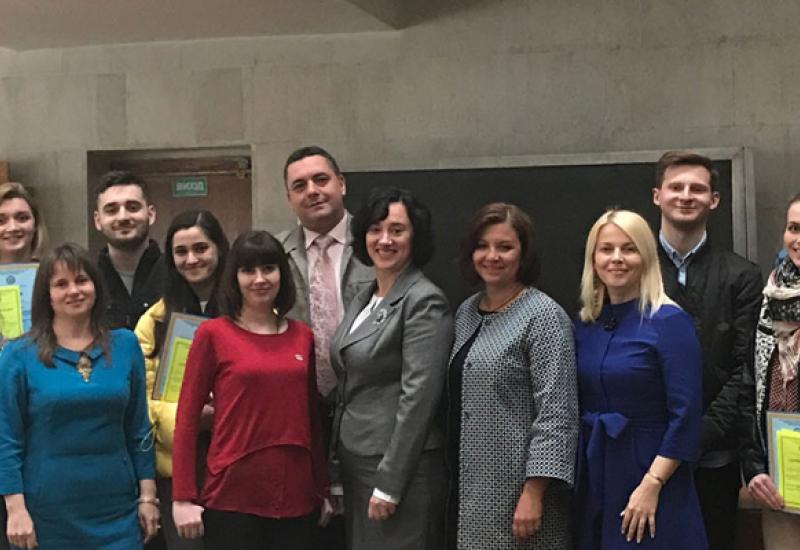 Every year in April, the Department of Management at the Faculty of Management and Marketing of KPI traditionally holds a scientific conference – "Modern Approaches to Business Administration", scholars and practitioners come here to share their knowledge and experience. This year it was dedicated to an outstanding date - the 120th anniversary of the KPI.
        The grand opening of the conference took place in the student space – BELKA, on April 12. The ceremony was attended by: an advisor to the  Legislation Institute of the Verkhovna Rada of Ukraine, Doctor of Economics, senior investigator I.B. Zhuliaev; academic secretary of the National Institute for Strategic Studies, Doctor of Economics, professor O.M. Lyashenko; Head of the Information-Analytical and Innovative Activities Department of the Kyiv Institute of Intellectual Property and Law and head  of the National University "Odessa Law Academy", Doctor of Economics, Professor V.M. Tupkalo; Head of the Marketing Department of the State University of Telecommunications, Doctor of Economics, professor O.V. Vinogradov; Head of the Management and Law Department of the Dnipro State Agrarian and Economic University, Doctor of Economic Sciences, professor O.P. Velichko; professor at Logistics Department of National Aviation University, Doctor of Sciences S.V. Smerichivska; Associate Professor at the European Integration Department of the Kyiv National Economic University named after Vadym Hetman, Ph.D., A.V. Chuzhikov.
       The conference was started by the Head of Management Department, Doctor of Economics, prof. V.V.Dergacheva. She emphasized on the importance of conducting such scientific forum in order to improve the educational and scientific level of students, postgraduates and young scientists, and to realize their creative potential.
        Additionally, except the plenary session and the participants' reports, the conference program also included communication with former graduates of the management department, discussions, business games "Foresight-session" and "Effective business model".
        Many experts and scholars from different higher education institutions and state institutions of Ukraine attended the conference, as well as Poland. Particular emphasis was on the scientific and applied management aspects in various fields and sectors of the real economy. They were devoted to important economic problems, particularly, to an innovation and investment entrepreneurship, to the realization of an international business in the context of global challenges, to the administration of modern business by taking into account the transformational changes in the economy and domestic or foreign logistics experience.  A collection of abstracts was published according to the results of the conference.
       The authors of the best reports were awarded diplomas.