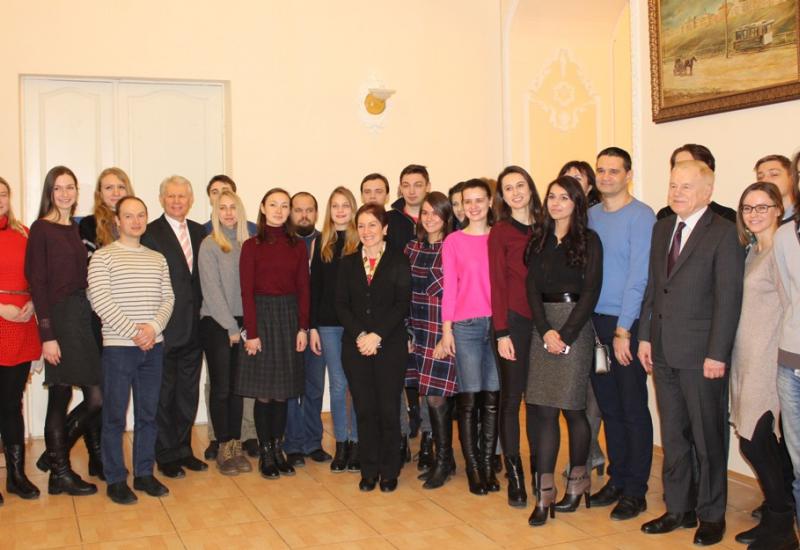 The Ambassador Extraordinary and Plenipotentiary of the US, Marie LouiseYovanovitch has visited the National Technical University of Ukraine "Igor Sikorsky Kyiv Polytechnic Institute" on February, 13.
It was the first visit of the head of the US diplomatic mission in Ukraine to the KPI. She was accompanied by the acting deputy of cultural attaché of the US Embassy Kuros Ghaffari.
The visit of Marie Yovanovitch has begun with laying flowers near the remembrance stand devoted to those polytechnicians who died in battles for Ukrainian freedom and independence in 2014-2017. The guest then saw the exhibition of the State Polytechnic Museum of the Igor Sikosrky Kyiv Polytechnic Institute and its department of aviation and space navigation. They have also seen the stands of "Boeing" corporation, which is one of the KPI's partners.
Upon the general acquaintance with the National technical university of Ukraine "Igor Sikorsky Kyiv Polytechnic Institute" Marie Yovanovitch has communicated with the students, post-graduates and staff of the university. The first pro-rector of the KPI, the academician of the NASU Yuriy Yakymenko, prorector of educational field Petro Kyrychok and the deputy of the international affairs department's head Yevhen Polishchuk etc.
In her foreword, which preceded the further conversation with polytechnicians, the Ambassador Extraordinary and Plenipotentiary has mentioned very urgent events in the context of the US-Ukraine partnership. She has spoken about the US support in the security sphere (in supplying of legal weapons and organizing of training of Ukrainian soldiers by American instructors), about favouring of reforms (e.g., she mentioned that during the last 3 year more was done than during the previous twenty). She has also mentioned the actual mechanisms of state control of the economy and its sectors that require the most radical changes (the taxing system, energy supplies, the range of state corporations etc.).
But the major part of the meeting was devoted to talking and answering the questions of students. They were interested in various topics – from the Ambassador's opinion concerning the changes in educational system of Ukraine and the changes between the US and Ukrainian educational systems to the problems in the sphere of dealing with bribery in our country, attitude towards Ukrainian cuisine, traditions etc.
At the end of the event the participants have made a photo op.