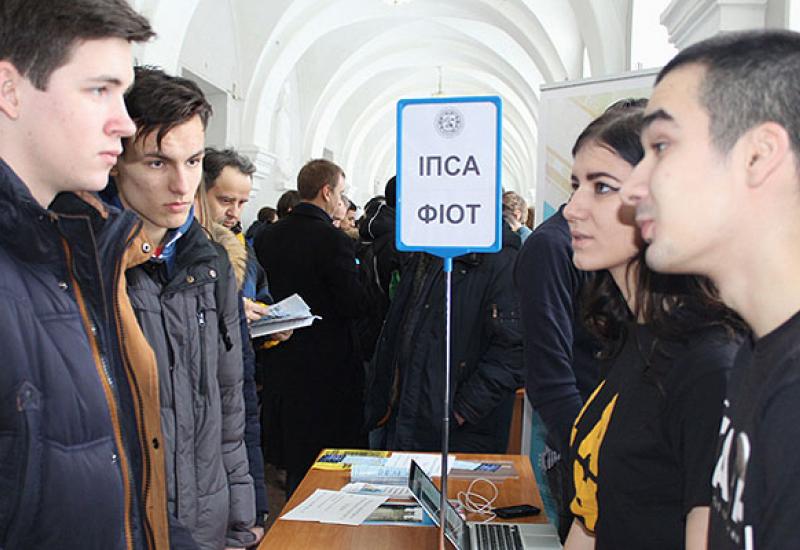 On February, 10, 2018 Igor Sikorsky Kyiv Polytechnic Institute held the Open Doors Day. Hundreds of visitors have come to the university with the view to get acquainted with the institutes and faculties and to find out the details of admission process. All departments have shown their informing stands in the hall of the building №1. The visitors had the possibility to communicate with teachers and students and to figure out the details concerning the study fields, organizing of practices and internships, working opportunities in the chosen field etc. They were also presented with corresponding printed materials.
The first pro-rector of the Igor Sikorsky KPI, the academician of NAS of Ukraine Yuriy Yakymenko has given his speech in front of future students and their parents.  He has given the information concerning general information about admission, about the university and great opportunities that are acquired by students for their studying self-development and entertainment.
The information about the peculiarities of this year's admission was given by the Deputy of the Executive Secretary of Admission Board Radmyla Segol and the Deputy of the Admission Board's Head Valeriy Mozharovskyi. They have also answered numerous questions made by guests.
In scopes of the Open Doors Day the high school students that have passed the professional orientation testing of "Magellano University" on the state website "My career" have taken part in the event, where they've heard the explanation of the main parts of this test: subtests, scales and their interconnection. The head of the proforientation department of Kyiv Youth Center Mykola Nesterenko explained the main questions, that are connected with passing the test, its parts and conclusions, and has also given corresponding recommendations. 
 Further work of the Open Doors Day was done in the faculties and institutes' buildings. It can't but be mentioned that the event "The entrant school" was held in the students space "Belka", which is situated in the G.I. Denysenko Scientific and technical library.