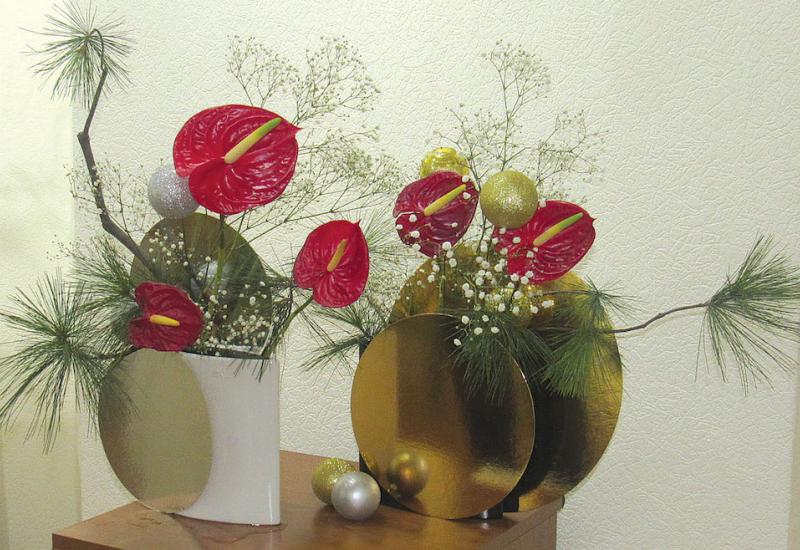 Visitors of the exhibition of Japanese art "Winter Ikebana", held at the Ukrainian-Japanese Center of Igor Sikorsky KPI on the eve of the winter holidays, had a great opportunity to feel the New Year's atmosphere of the Land of the Rising Sun and enjoy the last month of 2017 — the Year of Japan in Ukraine. The exhibition was organized by the branch of Ikebana Institute in Eastern Europe and the Ukrainian-Japanese Center for Igor Sikorsky KPI. The works were presented by teachers and students of arranging flowers courses of Yekaban UJC in traditional forms of ikebana, as well as free-style compositions.
The mysterious Land of the Rising Sun fascinates with many treasures. In particular, the creation of sophisticated flower arrangements, which has been practiced in Japan for centuries. The traditional art of arrangement of flowers - ikebana - uses a minimum amount of plant elements and attaches great importance to simple expressive lines. The composition must be in the form of a triangle, with three main elements that symbolize the sky, the earth and a human. Because of the three-dimensional effect, they can be considered real flower sculptures. This is the difference between the art of ikebana and other types of floristry.
Today Ikebana is studied not only in Japan, but also abroad. In many countries of the world there are branches of the Japanese school of Ikenobo, whose history is more than 500 years old. The branch office of the Ikebana Institute of Ikenobo also operates in the CIS countries. It is headed by Professor Yamad Madori. Since 1994, Yamada Midori has come to Kyiv annually with demonstrations of Ikebana. With its active assistance in 1999, the Kiev Branch of the Institute of Ikebana Ikenobo was organized - initially as a course at the Embassy of Japan in Ukraine. Now these courses are held at the Ukrainian-Japanese Center KPI them. Igor Sikorsky
Ikebana attracts the attention of Ukrainians as part of the mysterious culture of Japan, as an opportunity to touch the ancient traditions of the East. By studying Ikebana, we learn to see beauty in simplicity and naturalness, studying patience, respectful attitude not only to people, but also to plants, to nature. The compositions of the masters of Ikebana are very elegant, even modest, but have inner strength, which is manifested not in the number of bright colors, but in the harmony of forms and colors, where the composition is a whole, but the beauty of each flower is visible.