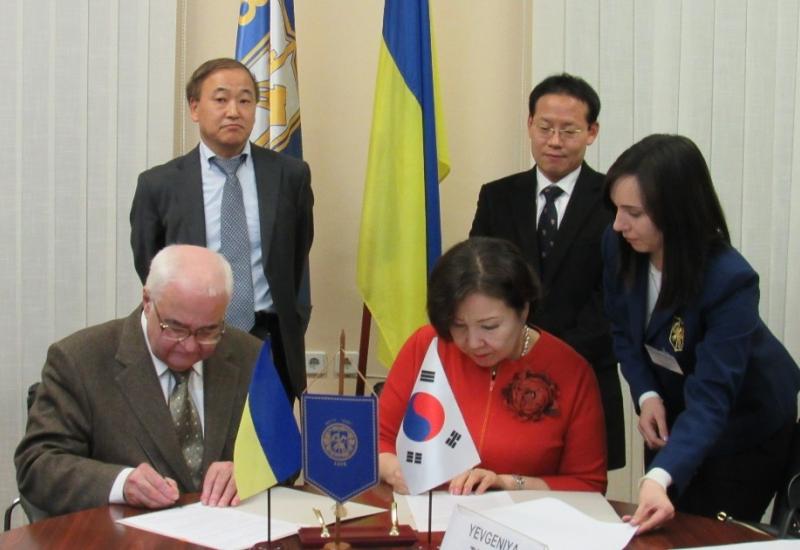 Igor Sikorsky Kyiv Polytechnic Institute signed a framework agreement on cooperation with the National University of Chonbuk (Chonbuk National University, or CBNU, Republic of Korea).
The signature of the document on November, 10, was made by Vice-Rector for International Affairs, Corresponding Member of the National Academy of Sciences of Ukraine Serhiy Sydorenko and Vice-President of the National University of Chonbuk on International Co-operation, Yong Myan Suk.
Chonbuk National University is one of the top ten leading universities in South Korea. It was founded in Chongju in 1947. Today, approximately 32,000 students study in 17 colleges and 14 academic and specialized masters and doctoral programs (Graduate School). CBNU supports joint programs with international educational institutions, it trains more than 500 foreign students, and also employs approximately 100 international researchers.
The signing ceremony preceded the presentation of both universities and a talk about the purpose and directions of cooperation.
Participation in the meeting and signing ceremony from the Korean side was provided by the Ambassador Extraordinary and Plenipotentiary of the Republic of Korea to Ukraine Lee Young-Gu, director of the Korean Educational Center in Ukraine Yu Seng-Beom, professor of Korean National University Chonbuk Cho Qwang Ming, visiting professor of the University of Yevgeniya Tshai and others; from the Ukrainian side the participants were the head of the department of foreign economic activity Andriy Shisholin and the staff of the Department of International Cooperation of the University.
So the parties of the agreement have agreed to cooperate in three directions – educational, scientific and innovative. In particular, the first provides for the exchange of training programs, joint work on the development and implementation of distance learning technologies, the development and publication of the requirements of the copyright of joint textbooks, joint scientific and methodological conferences, the exchange of lectures from the best teachers, the organization of online conferences (webinars) with leading scholars and lecturers for both students and postgraduates from both universities; on the other hand, joint research and publication of joint scientific articles, exchange of postgraduates and doctoral students, joint implementation of projects that are part of major international scientific and technical programs, promotion of the dissemination of information of mutual interest in research, new developments, publications and other materials and more; the third is the joint implementation of measures aimed at expanding the scope of implementation of the results of fundamental, research and applied research technological orientation and commercialization of research results, marketing research to identify potential consumers of high-tech products of the parties to the agreement (on separate contracts), registration of scientific developments of the parties to the agreement , which have prospects of commercialization, etc.
At the end, the participants of the ceremony agreed on further actions to transfer the achieved agreements into a practical plane and directions for further joint work.