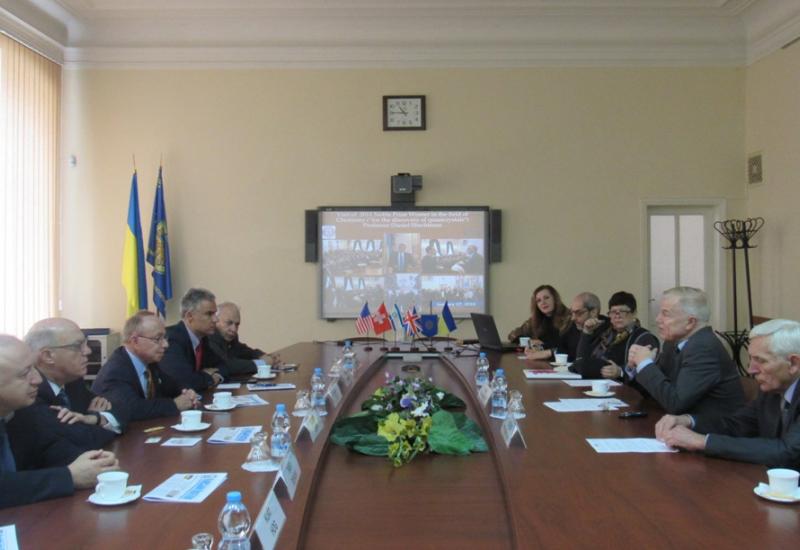 On 19th of October the KPI welcomed the delegation from one of the biggest non-governmental educational and vocational organization in the world, World ORT.
Founded in 1880, World ORT is operating now in 37 countries. It specializes in development of technical education and supports approzimately 300 thousands of students all over the world.
The members of the delegation were the president of the World ORT organization, the members of the Board chair of the organization Robert Grey (USA), the Chief Officer and the organization's CEO Avi Ganon (Great Britain), the representative and vicarious agent and World ORT contact, the CEO of World ORT subsidiary in Baltics and CIS, the chief of the charitable organization "Charitable organization "Educational resources and technological training" David Benesh (Israel), the director of World ORT program Volodymyr Drybynskyi, the member of the executive board of the charitable organization supporting educational projects Curt Hog (Switzerland) and the specialist in vocational education Dieter Benz (Switzerland).
The guests have met with the 1st Deputy Rector of the Igor Sikorsky Kyiv Polytechnic Institute, Academician of NAS of Ukraine, Yuriy Yakymenko, the deputy of international affairs' deputy rector Yevhen Polischuk, vice-dean of faculty of linguistics Olga Demydenko, etc.
The main issues discussed by the members of the meeting were the issues of the high technical and vocational education. The meeting was of a special interest because the KPI has a vast experience in this sphere when it comes to cooperation with its Israeli colleagues. The essence of this cooperation and its milestones were stressed in the speech delivered by Olga Demydenko. The participants of the meeting have also paid special attention to the problem of innovative activities and creation of students' start-ups along with the possibilities arising from the cooperation of the KPI with various international partners (Israeli ones – first and foremost). Yuriy Yakymenko has informed the guests about the first steps made in the sphere of conducting such a cooperation with a world-famous university "Technion", located in Haifa. The representatives of World ORT have told about the system of implementation of university's and students' start-ups in Israel and possible solution of motivating the participants of this process.