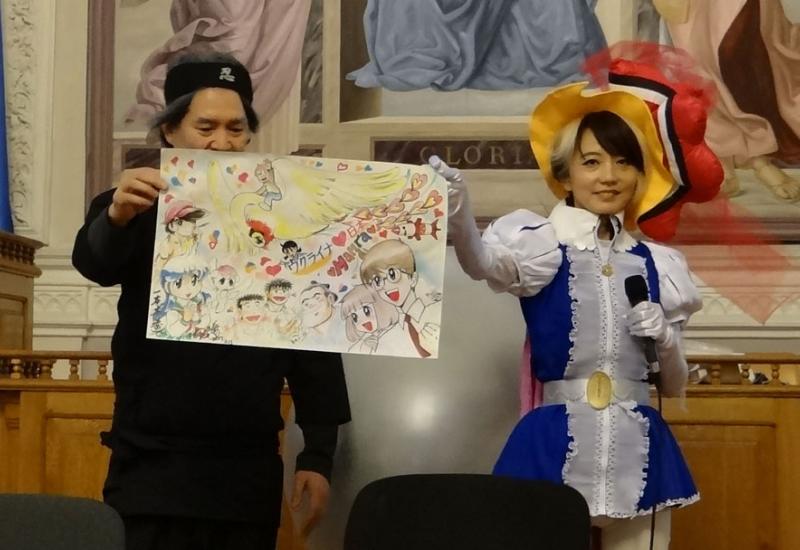 On 6th anniversary of the Great East Japan Earthquake and Fukushima Daiichi nuclear disaster the delegation headed by the initiator of the Okoyagari Koboshi project, worldwide famous Japanese designer Takada Kenzo, came to Ukraine in order to open the exhibition "Okoyagari Koboshi for Fukushima: solidarity from Ukraine". The project calls for the support of the affected residents of Fukushima Prefecture.
As a part of delegation, the representatives of the Association of Japanese Manga Artists, namely Yoshimi Kurata, Ban Ippongi and Noriko Nagano, have also made a visit to Ukraine.
While being in Ukraine, they carried out a few lectures and master classes for the Ukrainian fans of Manga illustration and Japanese comics in general. The attention was paid to The National Technical University of Ukraine "Igor Sikorsky Kyiv Polytechnic Institute" within the walls of which for more than 10 years for now the Ukrainian-Japanese Center has been functioning. On the guests, who came to the Halls of Academic Council meetings, was awaiting thrilling experience. They were greeted by japanese lecturers dressed up in different characters. Mr Kurata as a ninja, Mrs Ippongi as a princess and Mrs Nagano chose the heroine of the popular in Japan Ukrainian fairytale "Glove" (Rukavychka). Each of them has their own story and thoughts, which they shared with the guests. In the course of discussion, under the supervision of the professionals, one by one the Japanese Manga comics heroes were appearing on the paper. In fact, the paper, used for the demonstration, also had its own captivating history. It was told in all details by one more guest, Mr. Koichiro Fukasawa, representative of the "Ongaishi" project, who does a paper "Cranes of Peace" processing,which are sent to Hiroshima from all around the world.
The drawing, created by three artists, was presented by them to Ukrainian-Japanese Center of Igor Sikorsky KPI.
After the meeting was finished, small souvenirs were drawn among the attendants. These made up the result of recycling of these very "Cranes of Peace": hand fans, T-Shirts and Japanese cookies. Yet, the presents were not over. All interested were handed out a paper, on which the artists were demonstrating their craft. There was only one exception: it should be the Manga work you will have made by yourself and send its photos to Ukrainian-Japanese Center, which, in turn, share the works with Manga artist as well as "Ongoeshi" project representatives.